hello monday!
(…because every day is a chance and a choice to drive your life.)
I sat on the very chilly balcony this morning to watch the sunrise. Under a blanket I was in the quiet while clutching my steaming cup of coffee to my chest for warmth thinking of my friend Sam. News yesterday that Sam passed away after his 9-month battle-royale with the ever-hated cancer. (F*CK CANCER!!!) I imagined my sweet and always-smiling friend floating to a much happier, healthier place into the blue above: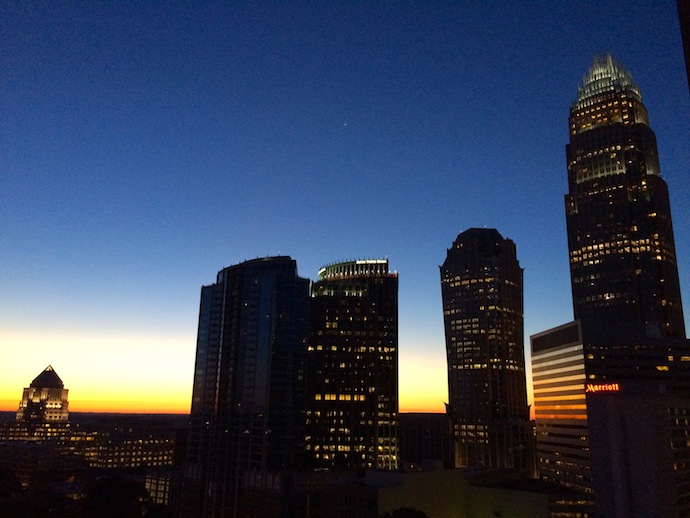 Yesterday at just about the very second Sam passed, I was starting a hot yoga class at a place for the first time. It happened to be the instructors birthday. As this instructor announced how thankful he was on his day of birth for all the people around him, and how life should be a celebration, all I could think of was Sam and think of the irony of a death day and a birth day.
Not that I have ever been, or would be ashamed of crying, but I did keep thinking that I was thankful for all the sweat dripping off me so everyone around me wouldn't be able to see my streaming tears.
People like Sam, should never be ripped from our earth this early. Clearly some one or some thing, somewhere, needed him to bring his smiles to do a bigger job than he was already doing living with us here.
I will share more about Sam soon. For today, Monday September 14, 2015, I just wanted to share a quick note about how much much he will always mean to so many of us. A true Mojo Warrior. I encourage you reading this to be inspired by him, even if you didn't know him. If there's one thing I know for sure, it is that he would want every single one of us to fully celebrate the time that we have.
TODAY is the day to tell someone you love them. TODAY is the day to take a leap of faith. TODAY is the day to start that thing you've wanted to. TODAY is the day to start really living if you are not already. TODAY is the day to be fearless.
Live while you are living. Sam sure did. What a guy.
#TodayIsTheDay #ForeverMojoWarrior #DoItWhileYouCan