We are going to this event tonight; Art, entertainment, and fabulous people- all to benefit Planned Parenthood: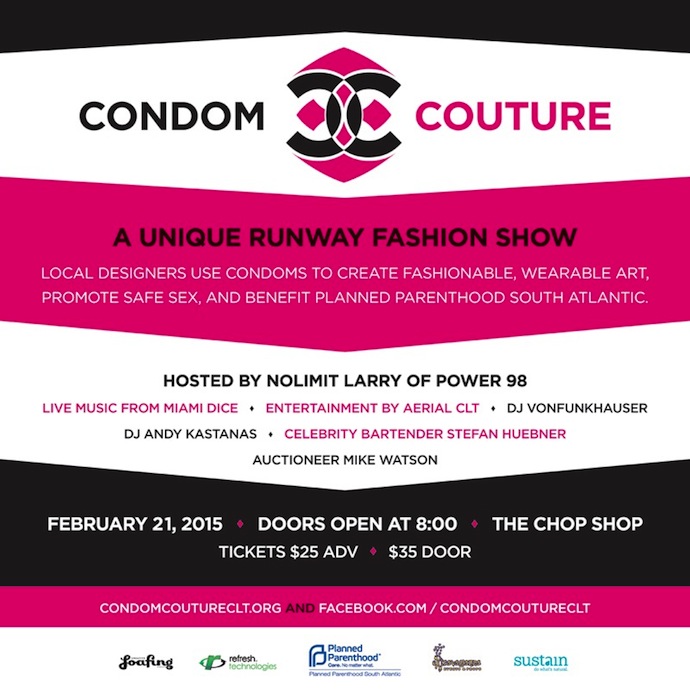 Whoop! Fashion creations made out of condoms by local artists? Awesome.
I'm a huge Planned Parenthood fan.
Years ago, I remember reading a gigantic binder full of thank you letters sent in by girls of all ages when I was in a Planned Parenthood office in Virginia, waiting to have my annual exam. (God those exams are about as fun as never eating chocolate again.) Some of the letters made me smile, some made me cry, mostly they made me thankful that there was a safe place to help girls who had nowhere else to go. When you're a young woman sitting in a quiet waiting room reading words written by a 15 year old who lived in an abusive home and was always told she'd "get the shit beaten out of her" if she ever came home pregnant, but was fortunate enough to have a place to get birth control pills, or from a 23 year old who was scared out of her mind not knowing how to tell her boyfriend she was pregnant, but was fortunate enough to have somewhere that offered counseling to coach her to have that conversation with a positive result- it makes you stop and think about your own life; That could be me, any of us- and what would I have done if I was in those shoes and had no where to turn? 
Thank you, Planned Parenthood.
I believe that every one, every day has a chance and a choice to change their life. I will always be in major support of any organization that offers chances and choices for those who might not have them otherwise. Hat's off to Planned Parenthood for all their years of education and advocacy to protect and advance women's health and rights.
If you are in Charlotte, NC tonight- come join us for a fun night with an awesome mission!
How do you support the organizations you believe in?
#SupportYourCommunity #Choices #CLTEvents