good thing I had sunscreen on
I just spent the better part of 2 hours on a pier in the blazing sun talking to a dad (I'm guessing this guy was 60-ish) about his college-aged daughters, and travel. I was waiting to get on a boat for a cruise on the river where I'm staying and the boat was having some issues, so as we patiently stood there, we started the typical friendly conversation about the gorgeous weather and scenery.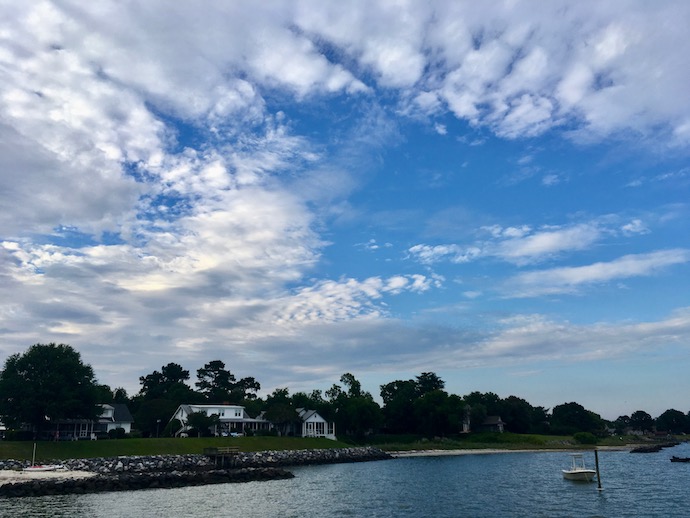 (I took this photo last night looking back at some of the cottages from halfway down the pier right before sunset.)
Our chat quickly launched into who I was connected to here, and how long this friend (who invited me), and I have known each other. (I'm the only non-family member, mixed among generations upon generations of people who've come together in this 24 cottage community for 4th of July weekend for the past 90 years.) We talked about where I was from and that lead to me sharing I'm on a road trip north for Play It Forward. I mentioned that I love being on the water and that I just got back from a leadership development program where I learned how to surf. After excitedly telling him about my Nicaragua time like a kid telling her friend about a favorite toy she just got for Christmas, he shared that his older daughter is currently in NYC at an internship for photography and she loves to travel, too. This adorable proud dad told me all about his two girls who both started school in one place, decided they didn't fit, moved to spots that fit better, started focusing more on what they're each truly passionate about, and now seem to be well on their way, much happier in their lives.
Yeah!
There were about 50 people at the pier all around us, eating, drinking, swimming, socializing, getting on boats…the total summer scene. This man and I were so engrossed in this conversation, there could've been a fireworks display overhead and neither of us would've picked up our heads. He sweetly bragged details about his hard working kids, we collectively agreed that we wished travel was seen as more an investment in oneself, and I thanked him for being the kind of parent that would encourage and support his offspring to chase the things that light them up.
If you're a parent reading this and you have a child (of any age) who feels a burn enough to speak up and tell you they're not happy in their current school, life, whatever (even though they might think they'll be an incredible disappointment to you)…please listen. Be the cheerleader along the way as they change what's not working. Make sure they know you'll love them even if they quit and start again 100 times, as long as they promise to always speak and live their truth.
Thanks, Mom!
#Travel #GoForIt #ConversationsFromTheRoad