challenging
I have a new client who's stuck. He's completely capable, experienced, smart, kind, aware, etc., but something hasn't quite clicked for him for his next phase. It's all good, it happens, and usually a few times in a life span, reminding us that it's time to pivot. I have full faith in what he will do, so I challenged him to set a goal with a completion date of April 25th. Then I threw myself in the mix of the challenge. If you're going to ask someone else to do something, you should put your own money where your mouth is, right?
I had an epic sleep last night (yes, I know that word is incredibly overused, but it fits here, so?) which is pretty rare for me. I woke up feeling like a million bucks. As I got dressed for my run, I set a pretty big tall order kind of intention for my day. (Don't roll your eyes! That stuff works, people!) Let's just say there was a little extra pep in my step and I ran like the wind. (Ok, now this is getting really cheesy.)
Anyway, after run snapshot, the power of Diggidy: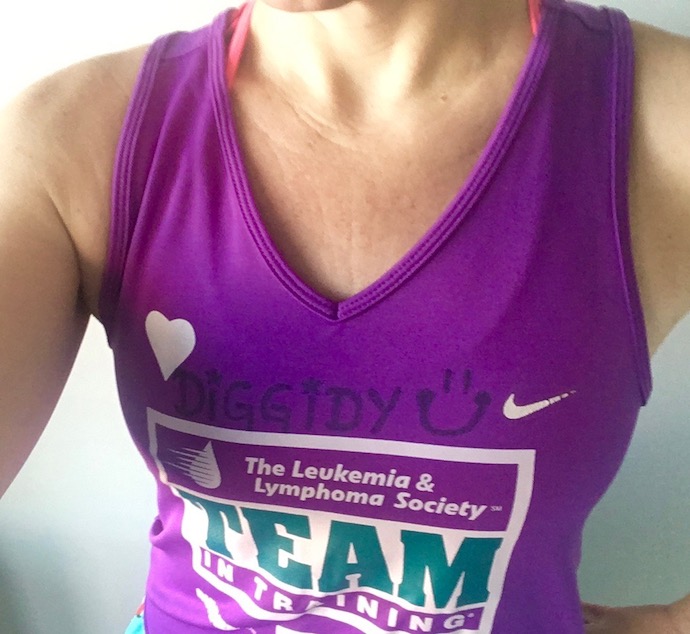 (Ask me about this old nickname sometime if you want a good story.)
I'm convinced if EVERYTHING you wear/have/own/do in your life actually has some kind of meaning, things just feel better and flow better. This includes ratty old running clothes from a gazillion years ago like this jersey from my 2004 marathon in Phoenix.
This life ain't easy as we have established many times here. As much as it's up to us as individuals to kick our own asses each day to make things happen, shouldn't we perhaps stick on this team in training, together?
This is #1, K! 9 more to go for me by 2 weeks from today. Hope you're cranking on your end!
#CarpeDiem #TodayIsTheDay #GetIt