the life unstuck
Hi there, I'm Diane.
Do you know me? If not, welcome to the world of blue lollipops and Strong Mojo where we don't waste any time because we know better.
My work/business is the no judgement zone, the no bullshit zone, the running like hell with as many people as I can carry, fast and furious out of the drone…zone.
Why the bleep are any of us doing things we don't want to do? The choice pool in this life is so big and beautiful it blows my mind…just as much as the fact so many of us don't take a giant swim in it every day.
WAKE UP!
If I'm not already, I want to be your no judgies friend. The pal that lets you know you are in fact, "normal" and it's Ok if simply because you feel it in your bones, you want to change your whole entire life so you can feel less stuck. I want to be the one that you call and say, "Um, Diane, I'm like totally drowning over here. I make a boatload of money but I'm miserable at my job and I have been for a long time now."
So I can say…
Ugh! Sorry to hear! That stinks. Sounds like it's time to quit and do something that doesn't make you want to jump off a bridge/yell at your kids every minute/eat more Cheetos and sit on the couch every night.
"Yeah, but I have a mortgage and my husband is going to be so pissed at me and think I'm nuts!"
No kidding, Bueller, we're adults, we all have bills to pay. Everything will be Ok. You can make a plan and execute it. And if the hubs isn't on board after you share with him that you'd rather eat glass than go back to that job you've hated for so long, maybe it's time to quit him right along with your soul-sucking gig, too.
Or:
"Hey Di, I was at a friends wedding and I looked down at my ring as I'm only a month away from my own wedding and I thought, oh my god, I don't think I want to marry my guy after all."
So I can say…
Holy moly! Ok then, just breathe, you don't have to of course! Don't do it!
"Yeah, but so much of the wedding is already paid for, my parents will lose their minds, everyone is going to think I'm a freak show and I don't know what the hell to do to even begin to stop this freight train."
Well first and most importantly you need to tell your guy, and like- right now. Then you tell everyone else the truth too, that the wedding is off and things simply did not work out for the two of you.
"Are you kidding? But I'm 35 and want to have babies! How the heck will I find someone else in time? Plus everyone will ask a million questions! My parents will be so embarrassed!"
Really? Do you actually believe your parents would be embarrassed that their daughter isn't really in love with the guy she's about to marry and she's brave and fabulous enough to speak now or forever hold her peace about it? Highly doubtful. And if they are, they're probably jerks who need to check themselves. You can join my f(r)amily if you need to.
I've actually already had these conversations though, and a ZILLION just like them. (Yes, seriously.) Nearly every day from the time I started really traveling around 20 years ago until now, a friend, stranger, or client shares, asks, or says things that make my head spin. I shake my fist in the air at the phantom entities (or worse, real humans?!) not being honest with each other. Those thoughts or people convincing us if we date so-and-so, we are weird, that if we have a house that's more than sometimes a mess we're a failure, or that we should stay hating our lives some where or with some one because we're "supposed" to.
WTF.
Them: You must think I'm crazy!
Me: No, you are not crazy my friend. If you like boys, date boys. If you like girls, date girls. Hell…date them both for all we care. You are allowed to be HAPPY!
Them: This must be the worst house you've ever been in.
Me: Pshaw! Do you really think your neighbors have it all together in their neat-as-a-pin cottage? Think again my friend. Behind those doors looks EXACTLY like it looks in here. Trust me. I've seen it.
Them: But I can't do that, I'm 50 years old! I've spent my entire life doing this!
Me: Why the hell not? Who says you can't make a change after living half a century doing the same thing? "Aging out" is so last season, sister. 50 is the new 30. Go on whitchabadself.
Them: I hate it here, but everyone expects me to stay, so what am I supposed to do?
Me: The only thing you're "supposed" to do, dude, is what you want. You make the rules. Get on your horse and ride. Your peeps that are worth it will follow.
Can we give ourselves a break, already? Like not beat the crap out of ourselves or each other thinking we should or shouldn't this or that? Maybe we could share whatever heart break, hard day, or shit show is happening on our end of life a little more, so perhaps our friends, family, and neighbors finally find out (gasp!) that we are humans just like them. Clearly we haven't thought enough about how short this life is, and how making it complicated with anything we don't actually want is the ONLY definition of crazy.
Today is a gorgeous sunny 70 degree day where I am. It feels glorious for a winter day. It's bittersweet as well because it also happens to be February 11th, which would've been my friend Maria's birthday who I can't see in person anymore. She and my other awesome fun, zany friend, Brandy are the original inspiration for everything I've done on this Blue Lollipop Road. Let me tell you who never wasted time; those girls. They also never asked for permission and that's one of the things I loved so much about them. They danced when they wanted to, laughed too loud, and didn't care if anyone joined them, because they were always having a blast.
I think we should all be having a blast, and worrying a lot less about what everyone else might think. 
In 1994 when we lost Maria & Brandy was the summer I decided to give myself forever permission to go, be, see, do, all I wanted to, and never apologize about anything I did if it felt right. I made lots of silent promises to my friends before saying goodbye. One big one, was that I would always laugh loud, dance a lot, and eat blue lollipops.
I'm still dancing…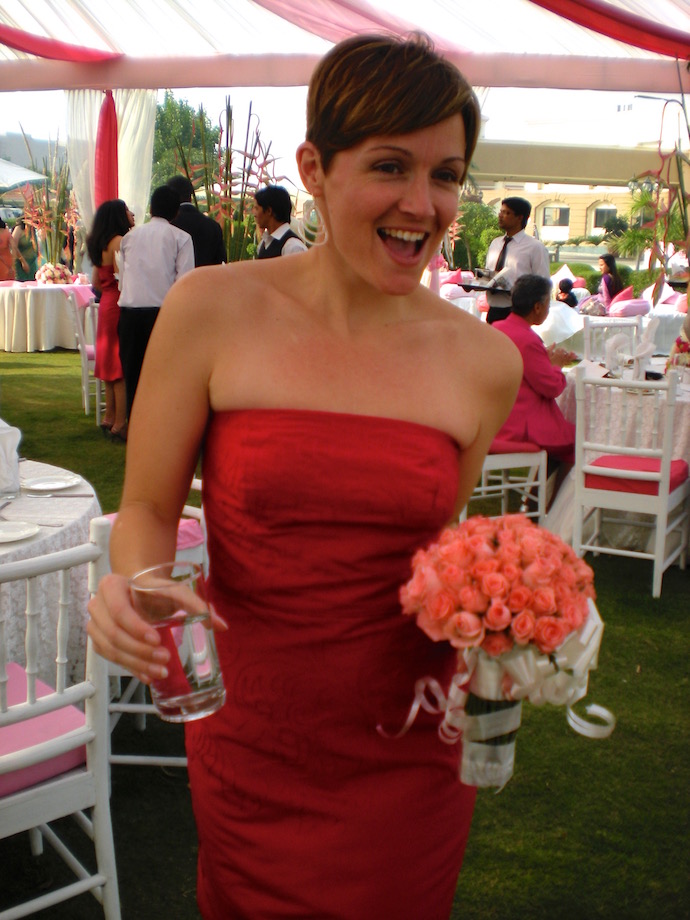 …eating blue lollipops: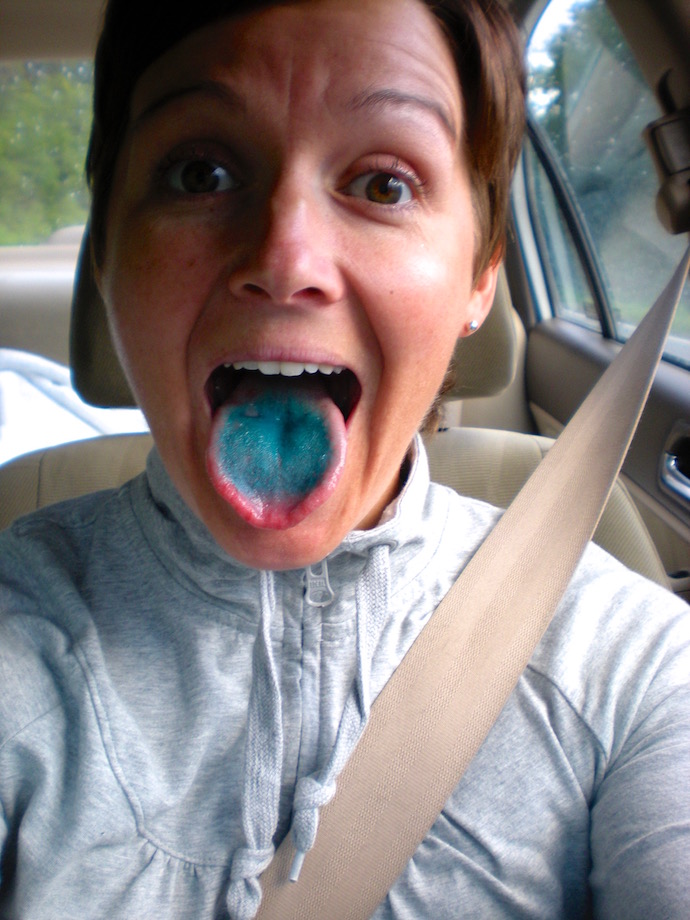 …and laughing of course. I hope this never changes.
Let's all stop waiting for permission, shall we? The Life Unstuck is just around the corner. Everyone is welcome, and no, you're not nuts. Come dance with us.
#TodayIsTheDay #LifeOutsideTheDroneZone #HopToIt