the absolute reality of black friday…
…and all "shopping," really:
YOU CAN NEVER GET ENOUGH OF WHAT YOU DON'T NEED.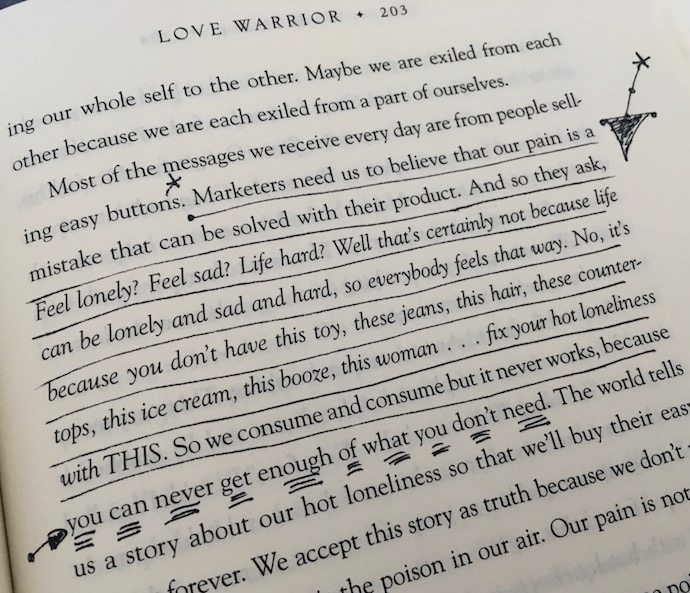 Funny that I'm finishing this book today, on Black Friday? More like perfect, as these now underlined words keep jumping out at me with the same passionate madness that Tom Cruise had that time he jumped on Oprah's couch.
Have I mentioned how much I abhor Black Friday? A day like this fuels the giant denial fire that so many of us live in everyday. It fuels the debt fire, the stuff fire, the fire of pushing down and hiding away our real lives…because if we get more, more, more…we will be better.
Wrong.
The less "stuff" we have in, on, and around us, the happier life is. Period. This is not my opinion, it is a fact. I would like to be proven wrong, but I have a feeling I'd be hard pressed to find a guy out there with a few hundred thousand in debt, a house full of crap, and a bunch of personal baggage from growing up he's never faced, who lives in pure true bliss. It's just not possible. We as humans weigh ourselves down with such an enormous amount of what we don't need, we actually break ourselves. Ever thought about that?
I hope during this holiday season you take a look around your space and think about what you can get rid of to make room for an extra hour with your friends. I hope you stop and think before going into Target, about what you really need at Target. I bet you're not nearly out of that soap, lip liner, or rolls of 86 paper towels you're about to buy. Think about that extra awesome hour you could have playing in the backyard with your kids, that you were about to spend at Target in line getting pissed off about how long they are, just so you could buy a bunch of things that you don't even need yet. Target is open tomorrow, dooms day is not coming, and imagine- just imagine, actually finishing off one bottle of something before buying another. Imagine putting that "I can never get out of Target for less than $200!", $200, towards an extra credit card payment that will help pave your road to debt freedom.
Victory!
Do you remember how great it was "doing nothing" yesterday playing football with your sons, watching the parade with your cousins, sipping wine with friends as you chopped and chopped? Do you remember snuggling up having coffee on the couch listening to granny's stories about that time she burned the turkey? Do you remember laughing until your stomach hurt between dinner and dessert reminiscing with your sister about those really crappy guys you both used to date? Do you remember what you said when you were all going around the table sharing what you were thankful for? Do you remember really missing that person who was no longer around to sit next to and feast with? Do you remember how yesterday was (even in varying degrees of friend and family chaos and drama), all about simplicity and time together? Did we already forget, less than 24 hours later, about the things that really matter?
What kind of gifts are really important for us to give each other, and everyday, not just during the holiday season? I think the answer is time and truth. I encourage us to stop and think about this before we rev our engines and speed off to the rat race of Black (hole) Friday shopping.
#LessStuffMoreFreedomHappyLife #LiveSimpleDoMore #LiveSimpleLiveMore
*If you like this post please share, and or scroll down to the bottom of my home page and sign up for email notifications. If you don't like this post that's Ok, you can still scroll to the bottom of my home page and sign up for email notifications. You'll like me eventually:) If you need someone to kick you in the ass and get a problem or project started or finished that you just can't seem to tackle alone, you can hire me! I promise I will save you loads of time and lots of money. Wahoo! Magical…