March 10, 2016
In
BLR Memorial Travel Scholarship Fund, BLR Play It Forward 2016, Blue Lollipop Road Memorial Scholarship, Do good, Inspiration, Links, News & Updates, People, Photos, play, Strong Mojo, Vermont
things that fill my heart
Today is March 9, 2016 and that means it is exactly 4 months until the 5th Annual BLR Play It Forward Event in Vermont.
In 2011 when we (a couple of my amazing alumni soccer soul sisters from back in the day) came up with the idea for an alumni soccer game which then turned into a full-scale community event and scholarship fund, I spent months in my Old Town Chicago apartment, floor 23 overlooking The Second City entrance, in my pajamas trying to figure out how to make it all happen. I remember some days I'd go to the gym for an 8 or 9am class, come back home all sweaty and yucky, wrap myself in a towel intending on getting in the shower, and start working only to find it to be 8 or 9pm and myself sitting there, 12 hours later stinky, starving, and still working. It's kind of amazing how time flies when you're in your zone working on something you're so incredibly passionate about. I'd eventually shower, and often times take the elevator downstairs to Chipolte (which was in the same building as The Second City across the street), get a veggie burrito, sometimes a beer and by 10pm be eating my one meal of the day on my couch in quiet. Rinse and repeat this is how those few spring months of 2012 went before our first big event happened on August 18, 2012.
Check this out! I just found a photo of my little desk area in that great high rise apartment I had:
Small work space that cranked out some dreams. I can't even remember what I used for a chair! Not fancy. It didn't matter. Boy those are good memories. This scene is where Play It Forward was born. To this day, my best work and what I am most proud of.
I've got buckets of photos from 2012, 2013, 2014, 2015 – but I will share just one from each year for space sake for today.
2012, balloon release in honor of our friends to kick off the inaugural event: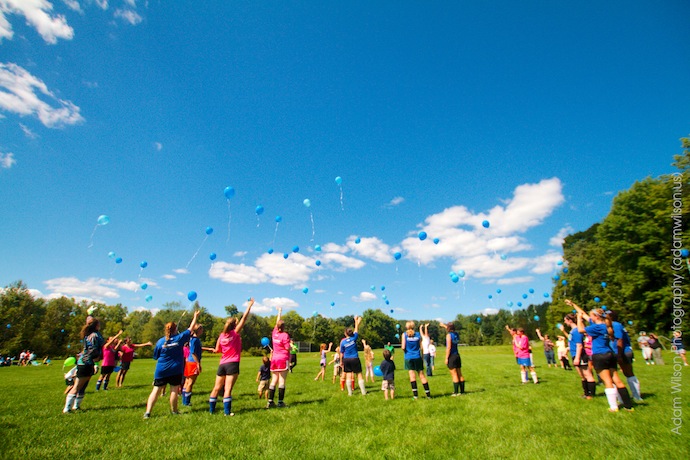 All hands in before game, 2013: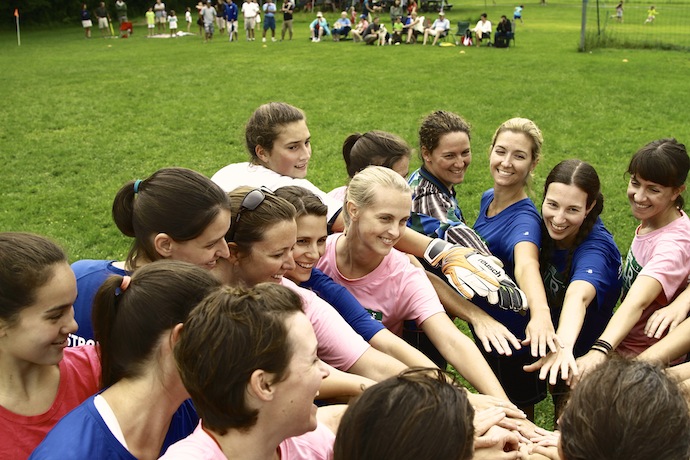 The Blue Lollipop Road Memorial Scholarship award, 2014: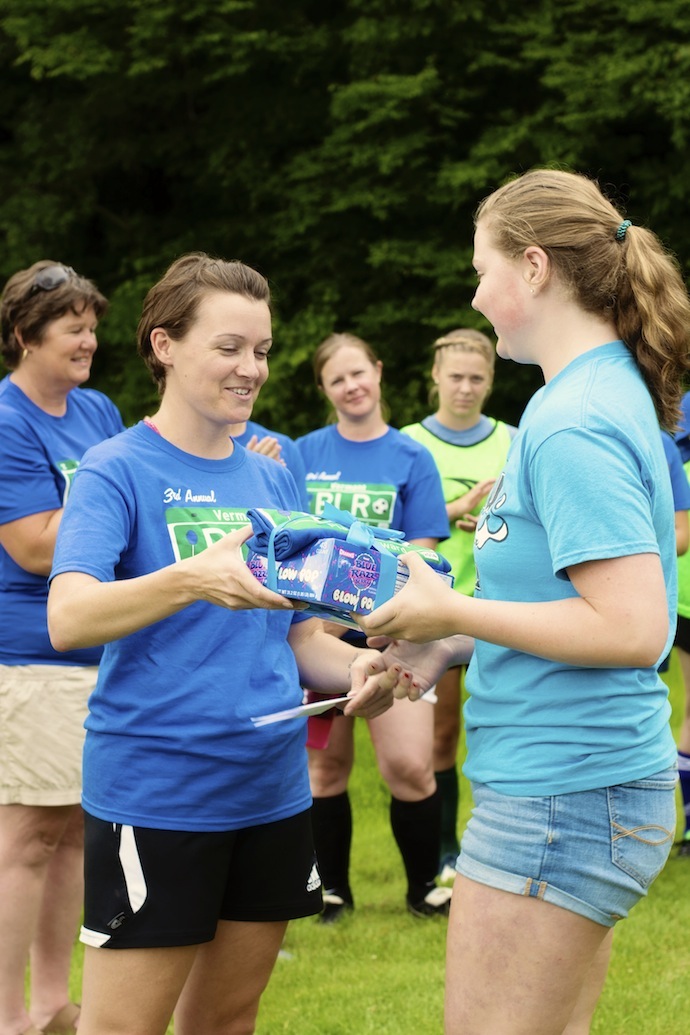 Me and "Mr. B" last summer, 2015 – one of our most loyal fans and supporters, cheering us on each year in his same white t-shirt: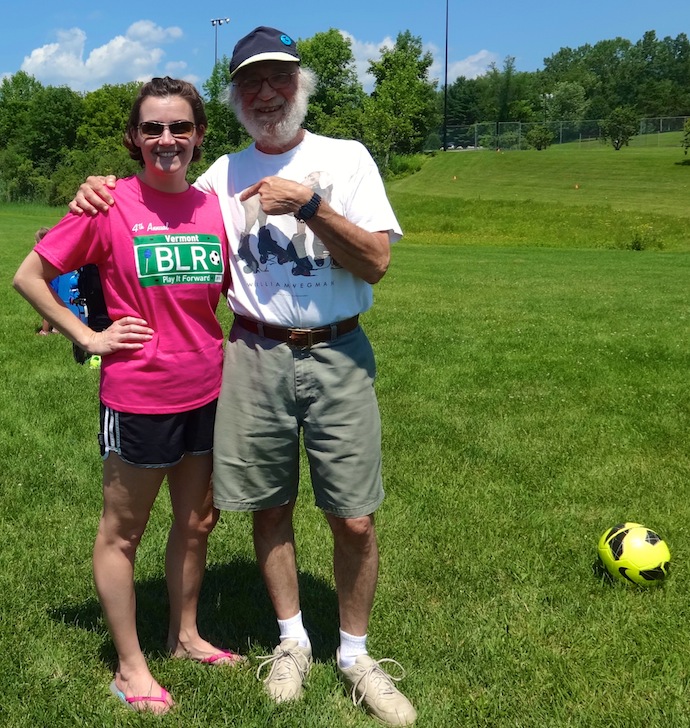 (That sweet guy was my 6th grade teacher!)
There's no way I could share here, all the photos and words I have that would illustrate properly the amazing impact we make. This day is so special you have to be there to believe it. (I hope whoever you are reading this, you will join us this summer in some kind of capacity!)
On July 9, 2016 we will once again come together to reconnect, reminisce, play soccer, cry together, laugh together, and give back. I already know it will as usual, be my favorite day of the year. A bittersweet day in this "brutiful" life, where nothing else matters other than coming together to remember, celebrate, and live.
What do you do, to make sure you never forget where you came from?
#RememberCelebrateLive #PlayForwardGiveBack #StrongMojo