a little crazy never hurt anyone
Rainy chilly Saturday night, not feeling so hot with a little bit of a cold. All snuggled in I am, and in a effort to be not only productive, but reflective, even with the sniffles, I'm flipping pages going through a couple old notebooks. (My regular give it a once-over after I've used up all the pages to see if I missed any "to-do's" or important things, then toss.) This is what I see just a few page flips in: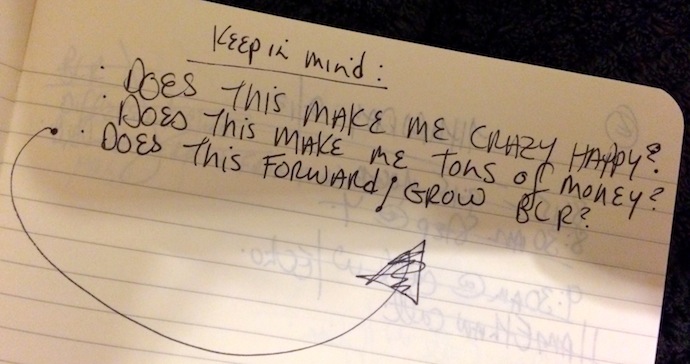 ("Tons" of money kind of cracks me up. Was I having a 6 year old moment there?)
I can't say I'm surprised I wrote the above on a certain friends birthday in February last year…what would have been her 37th birthday. She's always on my mind, but on a few specific few days each year like her birthday, I make sure to doubly check myself to make sure I'm practicing what I preach and making my best attempt to live my goals.
Like you I'm sure, I fail miserably at being on point with all things all the time, I say yes to things I shouldn't- that suck time and energy and don't give back personally, professionally, or financially nearly enough, I forget to have gratitude as much as I should, and every once in a while I even have baditude! (Bad + attitude.) The worst? That damn gerbil wheel I despise so much is found under my own two feet too, every year or so. (Until I fling myself off, screaming and tearing…just jumping and gasping for that non-gerbil wheel air I love and need to survive and thrive.)
Thankfully when we find ourselves slipping into bad habits, and spin, spin, spinning like those little rodents- we have THE CHOICE to jump back into whatever awesome reality we know is out there, just as fast as we realize we're spinning.
To my sweet, funny friend who inspired me to write this "Keep in mind" trio, thank you for reminding me that we all deserve to be crazy happy.
Indeed we do.
#TodayIsTheDay #KickYourOwnAss #StayTheCourse
What makes you crazy happy?
PS ~ You know what would make me crazy happy? If you scrolled down to the bottom of this page and signed up to get my blog posts via email, that's what. Whoop!