G-L-A-M-O-R-O-U-S
I flew to Lubbock, Texas last week.
In first class.
(I'm not sure I thought I'd ever type either of those things.)
It was an accidental first class booking, or at least, lets assume so- and it was the best accident ever. The night before my flight when I saw "first" in the email confirmation, I jumped for joy, spun around, called to confirm that could possibly be correct, squealed, clapped, texted a few people with lots of smiley-face emoticons, screeched, and then of course, could not stop singing & dancing to this:
We flying the first class
Up in the sky
Poppin' champagne
Livin' the life…
All 50 states and 17 countries, 20+ years of travel and I have never once flown first class until now. What?! Seems crazy but true. Never a bump up, freebie, not one single "Attention ladies and gentleman in the concourse…we have overbooked! If anyone would kindly volunteer to give up their seat, we will put you on the next flight in first class, love you forever, give you a unicorn, and award you a 6 billion dollar voucher for your next flight."
Never.
I always say I have really expensive taste, but I don't practice it/use it often. I'd rather spend $500 going out to 10 lunches or dinners with friends, or on 10 gas fill-ups for my car to go see my family, than on a first class upgrade- but man, after my experience last week, I can sort of see what all the fuss is about. (And from what I understand, my first class experience was pretty low-key compared to overseas flights/flights on newer planes.)
Giddy me boarded so early it was still dark out, but that didn't stop me from ordering a mimosa pre-flight, just because I could: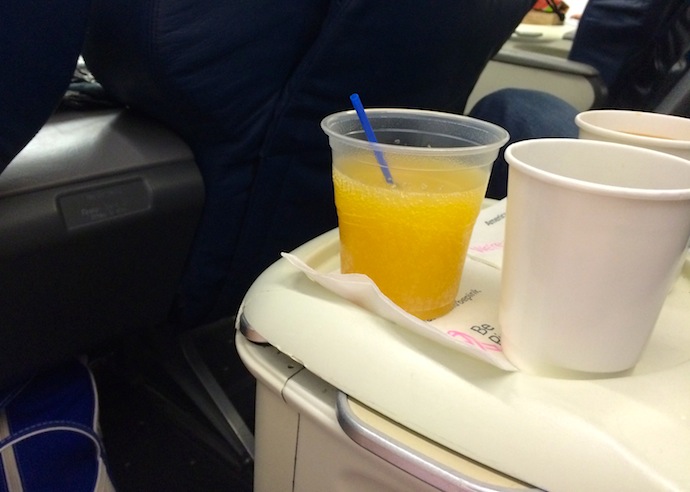 …and then another as soon as we took off: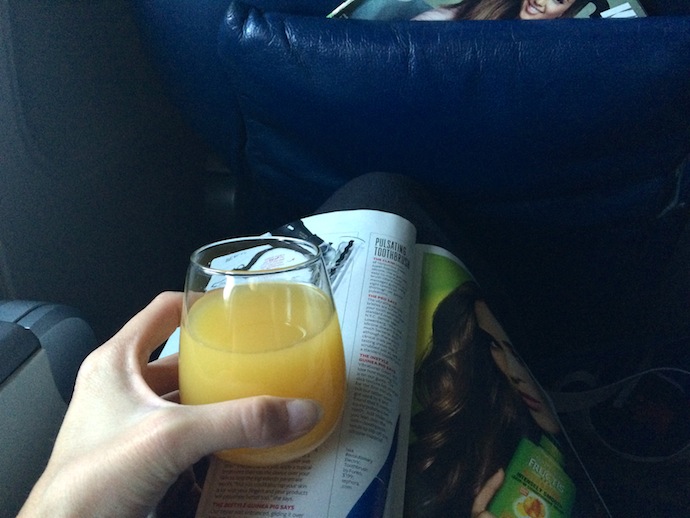 …you know- just because I could…again.
It was so fun. Mimosa at 6:48am felt a bit strange, but the triathlete guy sitting next to me had 2 Baileys with coffee, so I convinced myself I was still a responsible adult on a Thursday morning watching the sunrise: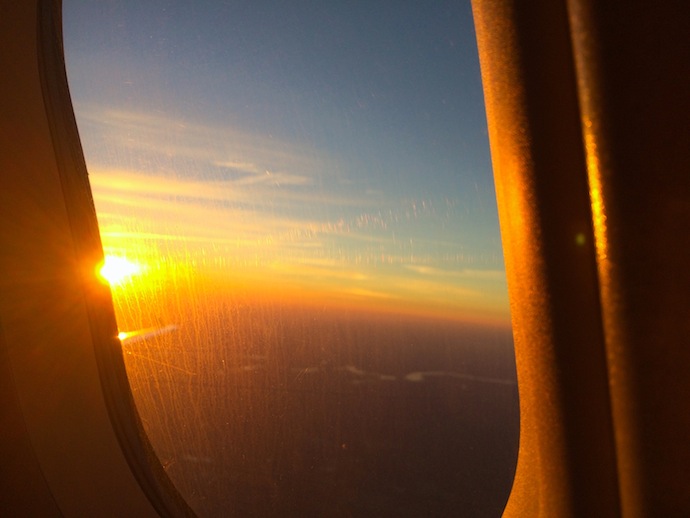 The window could've used a little cleaning, but I was in heaven, streaks and all. Then a bit later, this gorgeous blue view: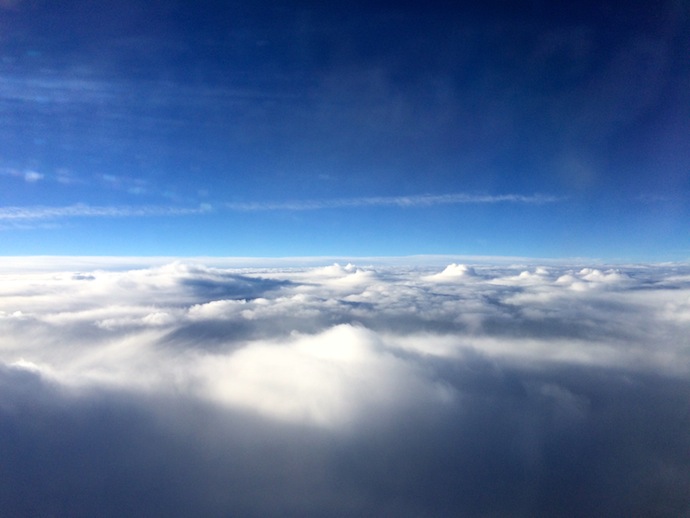 For a small town, coach-flying, minimalist girl- this was a treat like no other. What kind of 37 year old get's that excited about a first class flight? Me. Loved every minute of it. For all the fancy freshest-ever food & wine I've ever consumed, and all the highfalutin events I've ended up at somehow during my adventures, I've likely rolled up in a $20 dress and driving my 2004 Honda Civic with 220k miles on it. I hope I never turn a shoulder to my frugal habits or my nerd-alert excitement for occasional posh things either. It's a good things to experience both sides, feel spoiled- and still always remember what's truly important. For now I still feel high from that flight and I can't wait to squeal and screech like a kid when the next bonus thing like CLT>LBB drops in my lap.
So fun.
When did you last get all buzzy and fuzzy because of a treat?
#TheOtherHalf #Appreciation #FancyPants