October 1, 2015
In
Articles, grow, Inspiration, Links, Live the life you want to live, Operation Charlotte, People, Photos, Thank you, Today Is The Day
shutting up and being grateful
I ran across this today. A good read. I'd like to hang out with the author, Mark.
On my soap box, especially lately, I've preached the word practice a lot, and still don't understand why yoga seems to have stolen that word from everything else in the world. Why don't we think about practicing every aspect of our lives, not just yoga, or sports in general? Shouldn't we be practicing everyday, to be a good sister, daughter, friend, employee, neighbor, or just a good, fun, productive & generous human who's nice and friendly just to be nice and friendly?
I just walked into Starbucks to hunker down for an afternoon of work and was greeted extra cheerily by a very overweight, nerdy, scruffy, awkward-looking barista guy. This particular Starbucks is in the center of the city and never fail, is always 110% filled with the most strapping looking fit businessmen you could imagine. (Occasionally these groups of men are sprinkled with an equally gorgeous high-heeled business woman or two.) It looks like the J.Crew or Abercrombie & Fitch catalogs exploded in here and the people on the pages came alive. So here's this barista guy with the biggest smile in a scene of go go go perfectly coiffed, seriously focused executives, who aren't smiling- throwing in his cheery personality, clearly practicing to genuinely enjoy his work and not be intimidated by this otherwise potentially intimidating scene.
As it becomes my turn to order:
Him: "Hey hey hey! How are you today?!" (in the cutest, upbeat tone)
Me: "Im great- thank you, that was the nicest greeting! Thank you!"
Him: "Why, you're welcome- what can I get for ya?"
I order, he asks for my name, I tell him Diane, he thinks I says Diana and I roll with it.
Him: "That's Wonder Woman's Name! Spin around!"
To his surprise, I spin around.
We both laugh.
Me: "If only I could spin around like that and fix all the problems in the world!"
We laugh again, and agree "yeah…"
I thank him, turn to walk away, and he exclaims- "Have a great day, Wonder Woman!"
So totally adorable.
By a landslide, this very overweight, nerdy, scruffy, awkward barista guy is the most attractive, impressive, magnetic man, in this otherwise model-looking crowd I'm among right now.
In the article above, the author writes "I'm the last one to pretend everything is unicorns and rainbows." I'm with him on that. It's often hard to see the forest through the trees, and even harder to be grateful during sad times. It's not easy to shut up (at least it hasn't been in the past for me), It's not easy to keep thinking your minutes will add up to something when you've felt like you're getting nowhere fast. It's not easy to say goodbye, It's not easy to feel alone/lost/stuck – most things are not easy, but we all must push and motivate to practice each day, being grateful for the tiny beautiful things.
Let's practice together!
Right at this moment I'm grateful for the luncheon I just went to with delicious food, the new people I met and connected with. I'm grateful for the notes, check-ins, and congratulations during the past few days from friends & family about a big event I had yesterday. I'm grateful to be able to work from anywhere and do what I love. I'm grateful for the huge challenges I've faced during the past 6 months and the lessons I've learned. I'm grateful for the few late hours I spent with a good friend last night scrubbing, vacuuming, and sweeping out the last bits of her apartment for a move, as we both exhaustedly and filthily stuffed our faces with a pizza-on-paper-towel party, and laughed about the chaos. I'm grateful that I could still laugh at myself, and this crazy life, as I sweat my butt off in my little car, looking like The Clampetts yesterday while talking to my little brother and almost getting pulled over by the police: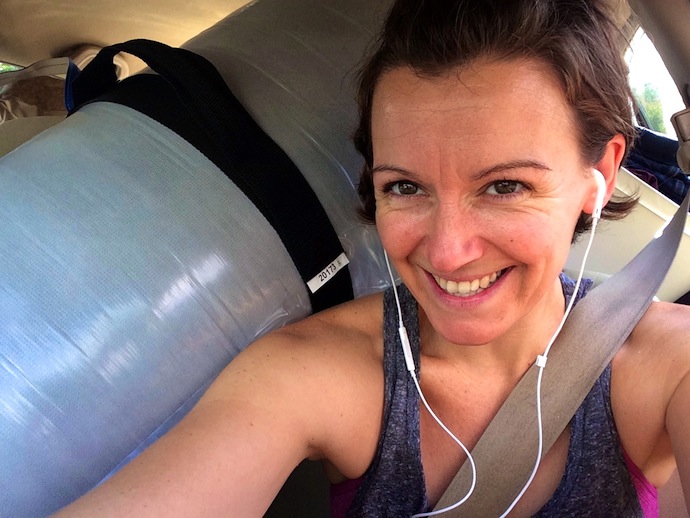 I'm even grateful for the wrinkles around my eyes in this photo. They mean I have smiled a lot:) Mostly today, which kicks off Breast Cancer Awareness Month- I'm incredibly grateful to have called Kaitlin McLellan not only a tried and true friend, but a very best one, and for many, many years.
Lucky, lucky me. So, so, very grateful.
Enjoy it now, and be grateful my readers- this life, this amazing, nutty life…is far to short not to.
Thank you, Mr. Barista, for making me spin around and bringing extra sunshine to me on a day I've been missing my dear friend. I won't forget it.
#AlwaysLearning #AlwaysAdventuring #AlwaysGrateful