ewww! cauliflower?!
…that's what I used to say as a kid about the white tasteless veggie. Don't even get me started on brussels sprouts during my younger years. Thankfully the farm-to-fork/localvore/farmers market/back-to-basics/foodie movement has boomed over the past few years, so not only are we all eating a little bit better and more local (yay!), but chefs far & wide are creating all kinds of delish cauliflower and brussels sprout recipes, that are making big kids like me run back for more of those foods we once winced at.
We found a cauliflower recipe recently in Food & Wine Magazine that I'm in love with. This is our tray full of goodness: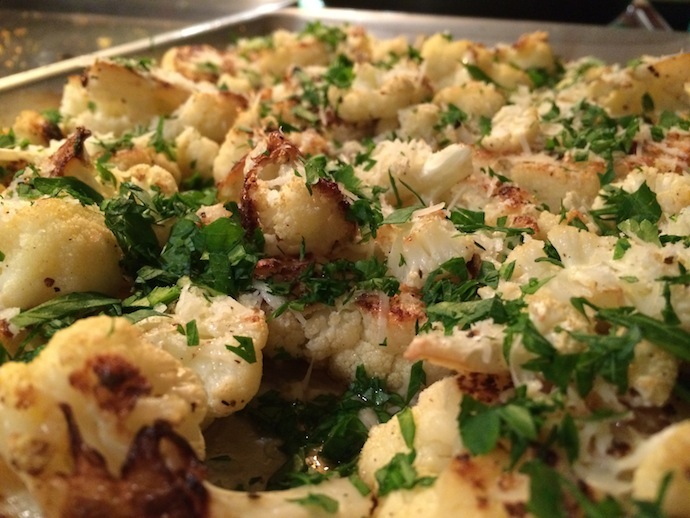 So good. So cheap. So easy! I love when simple fresh stuff like this, tastes amazing and looks fahhhncy too.
To make you will need:
1 head of cauliflower
1 lemon
Parmesan cheese (shaved)
Fresh parsley (chopped)
Salt & pepper
Butter (for stove top option)
1.) Cut cauliflower into small pieces, leaving enough of stem to hold florets together.
2.) Cook on grill or brown with butter in a pan on the stove top.
3.) Place on cooking sheet.
4.) Squeeze lemon over each piece.
5.) Sprinkle with salt & pepper, parsley, and parmesan.
Voila!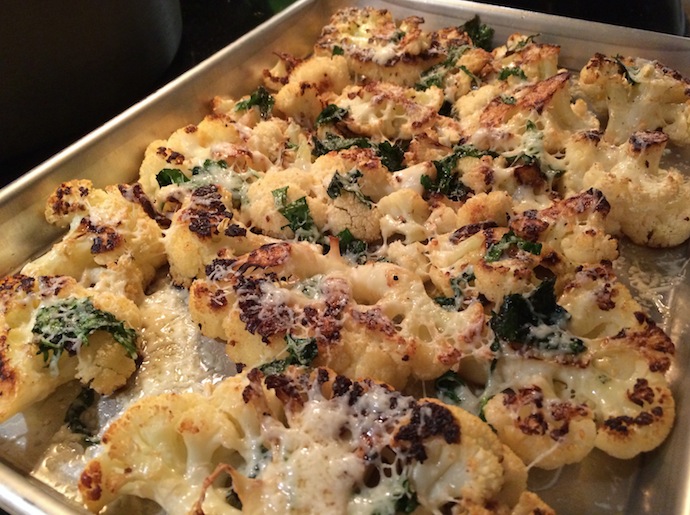 There you have it from the kitchen of Blue Lollipop Road!
Now I'm hungry…
How are are you reinventing your veggies?
#FoodPorn #EatYourVeggies #Foodie