there's something about a road trip…
…that makes me jump up and down with excitement, my heart skip a beat, me feel totally and completely alive.
Today we head out for a long wedding weekend. Of course I am thrilled to celebrate love, see old friends, meet some new, eat some yummy food, have some yummy drinks, and shake my booty on the dance floor- but mostly I am thrilled to get behind the wheel and JUST BE ON THE ROAD.
I woke up bright and early in the dark this morning feeling different than most days lately, being that I have a home base and don't travel, travel, road trip as mush as I used to. (Which might I add, is very tough and by that I mean, often feels like torture.) I woke up feeling energetic, powerful and ready to seize the day in a whole different way than I usually do now in my "normal"-ish life.
This means a few things:
1.) Clearly I can't fight it- this girl (thumbs pointed inward) is a road warrior, and that will never change no matter who else I try to bend myself to be.
2.) I need to check myself (translation; smack myself) to keep finding adventure any way I can, and write more in this "normal"-ish life. (Obviously if you are following me here still, you know my writing has MAJORLY slowed down since I went from road warrior to home base girl last summer and that is not Ok with me.)
3.) Everyone- I mean every, single, one of us- deserves to find, have, and keep something or some one (and as often and much as possible) that makes us feel excited, our hearts skip a beat, and totally and completely alive.
With that I will say (to myself and you reading this); Today is the day. What are you waiting for? What makes you feel completely and totally alive?
Figure it out and find a way to live it. After all…this is your one rodeo.
Random throwback photo from my road to trip to Alaska a few years ago: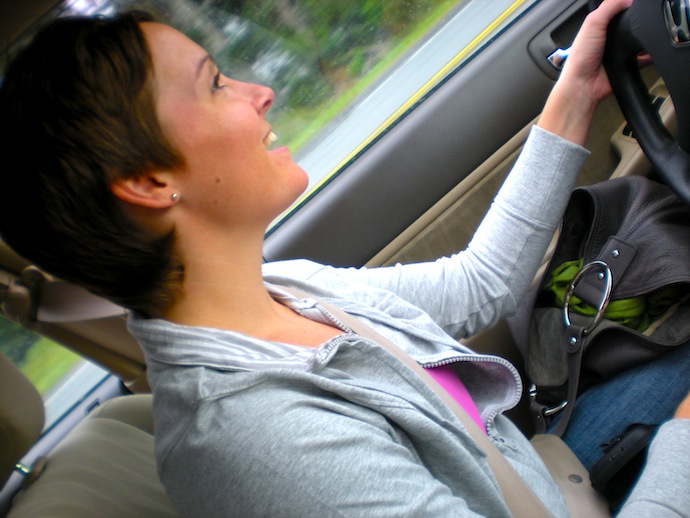 …boy was I one happy girl that day.
#TodayIsTheDay #TheRoadIsMyReligion #FindYourRodeo