nola, jazz fest, and a beignet addiction
As promised…our road trip to New Orleans!
The weather was perfect for our trek to The Big Easy the first weekend in May. We rolled in for our long weekend on Friday: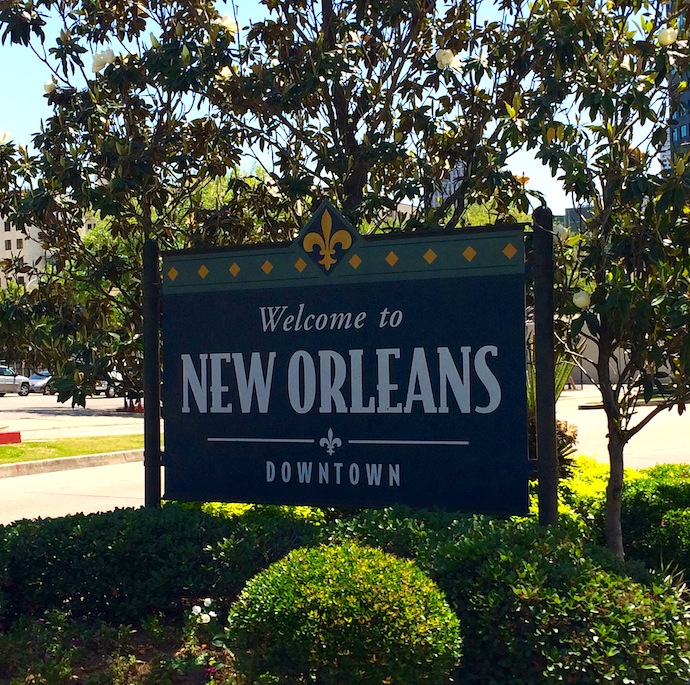 …dropped our bags off at the hotel and walked (safety first!) with mimosas to to Jazz Fest. Pit stop at Whole Foods for the bathroom along the way, and naturally I couldn't resist this photo from their bathroom: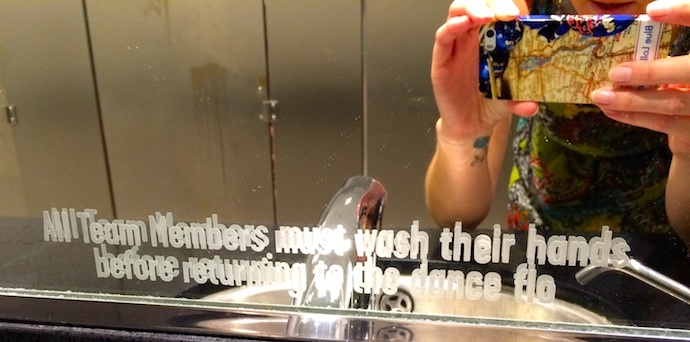 Can you see the "dance flo" text? BHAHHH! (I'm easily entertained. Translation; cheap date:)
Onto the festival, with people, parades, and music- oh my!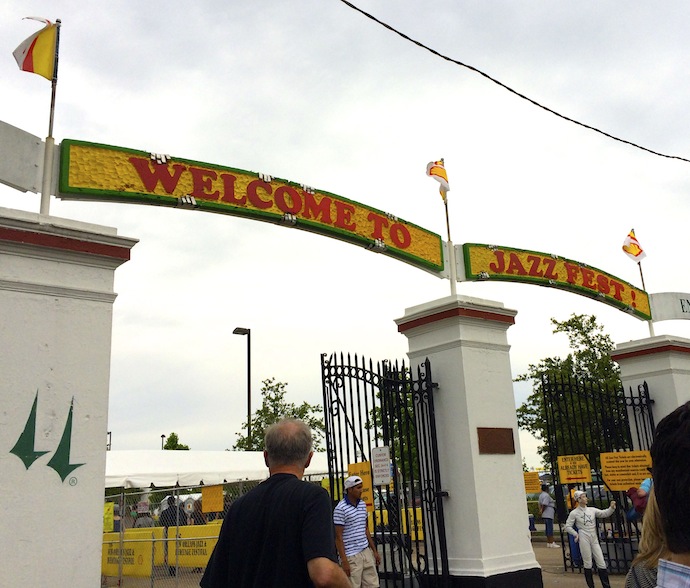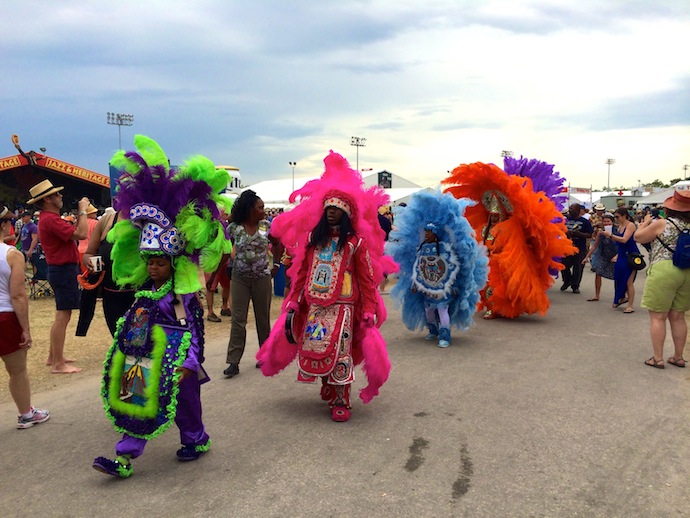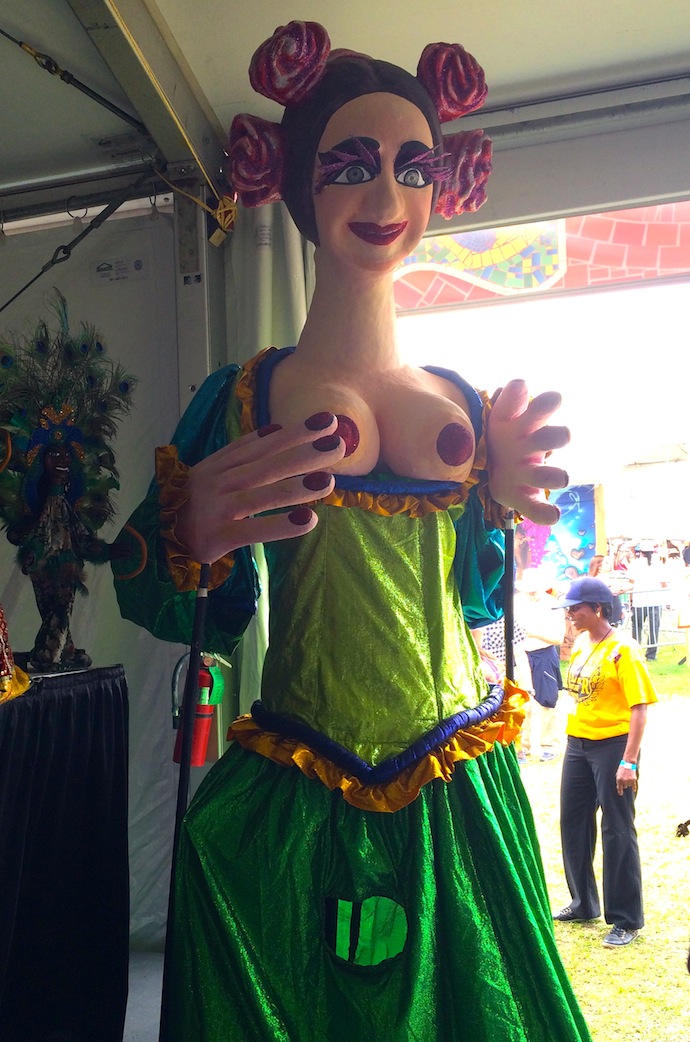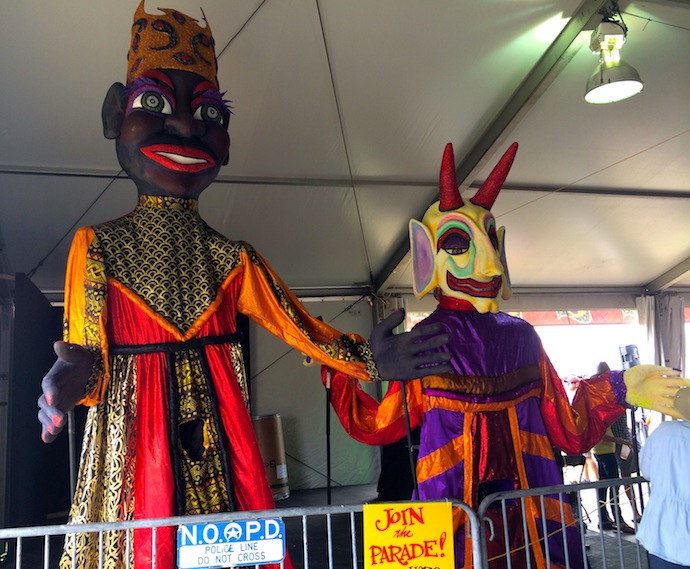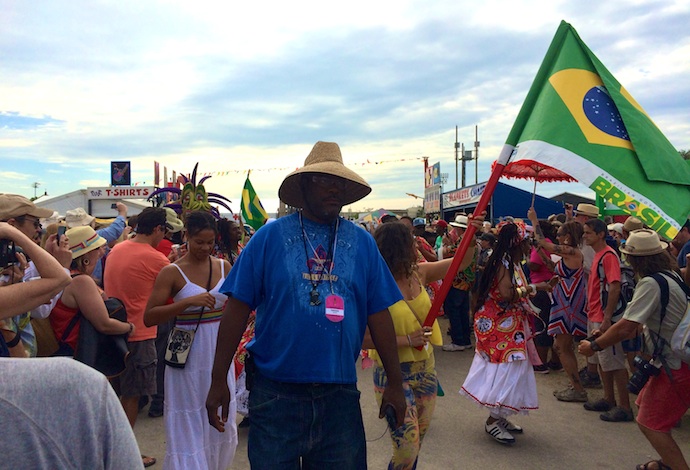 Relaxing Jazz Tent: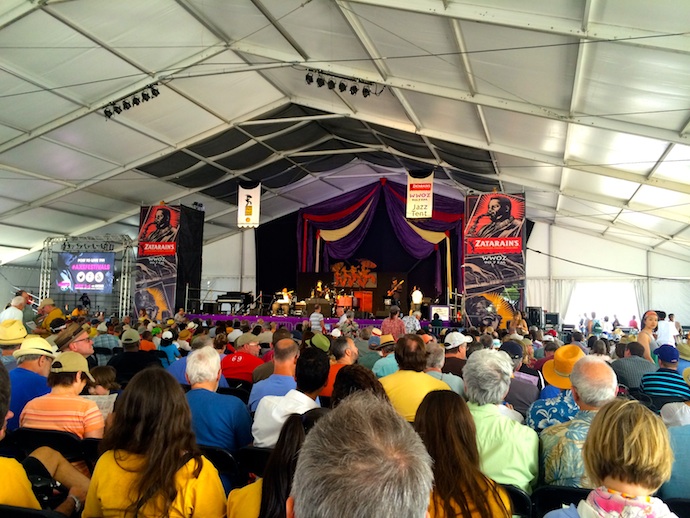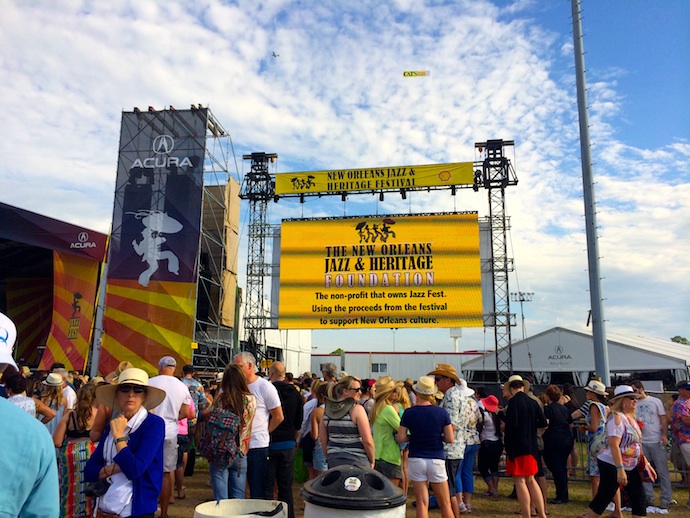 I would't necessarily think of Christina Aguilera when I think of jazz, but that girl with her big pregnant belly got me dancing: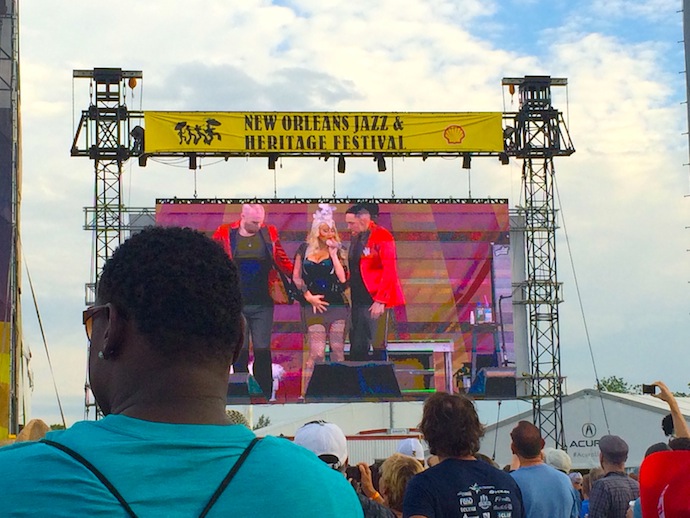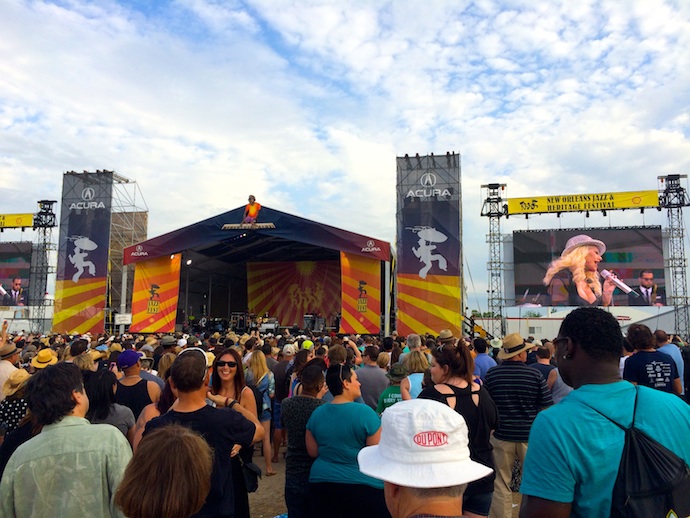 Great long day at the festival, trolly ride back to hotel, and sunset: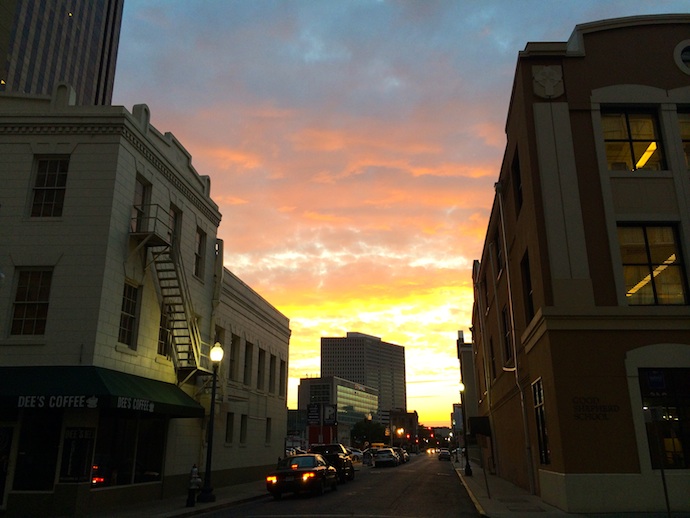 After a shower and prep for dinner, we ran into this crazy fun and awesome parade of a wedding party one block off Bourbon Street, celebrating their nuptial NOLA-Style:
The next morning, completely random tree/sky/building "up" photo as we wandered around: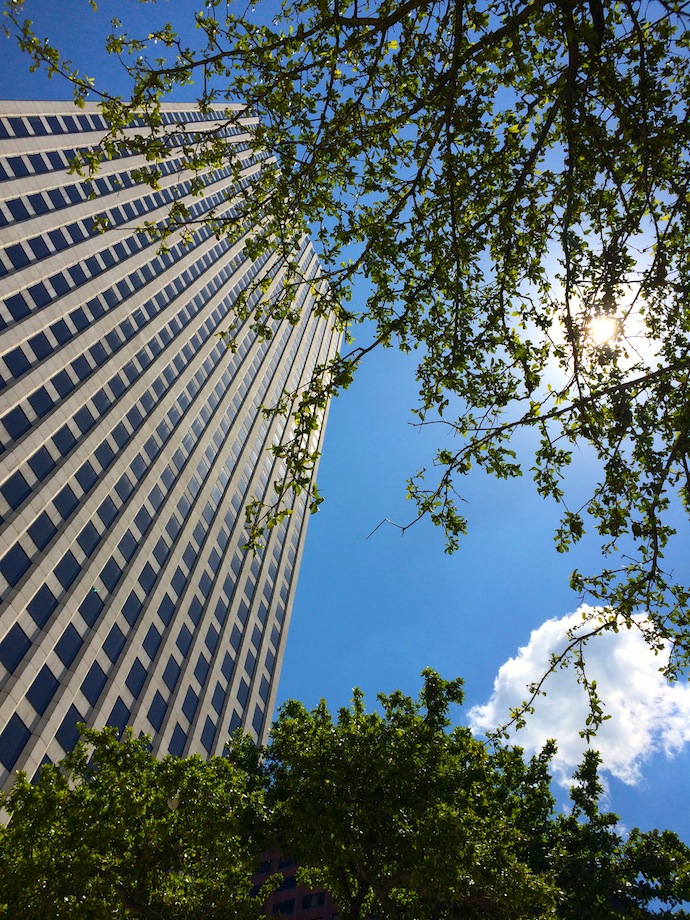 (If you've been following me for a while, you know I became slightly obsessed with sky/skyscraper/cloud photos while living in Chicago, and took a lot of photos there.)
We probably walked 20 miles on Saturday, just wandering…people, streets, and food: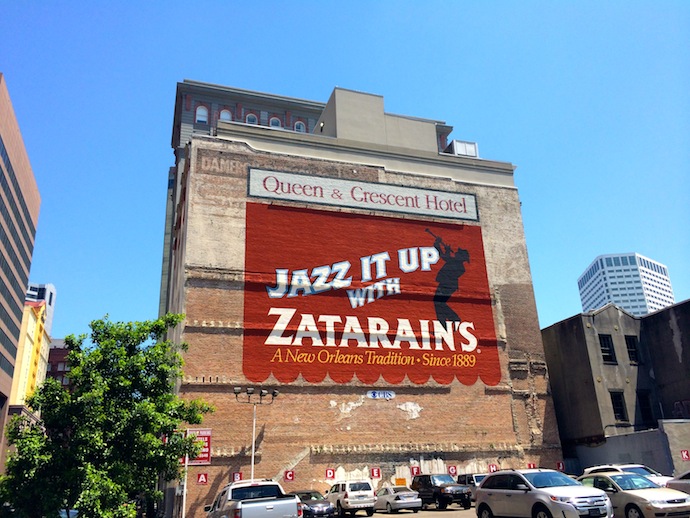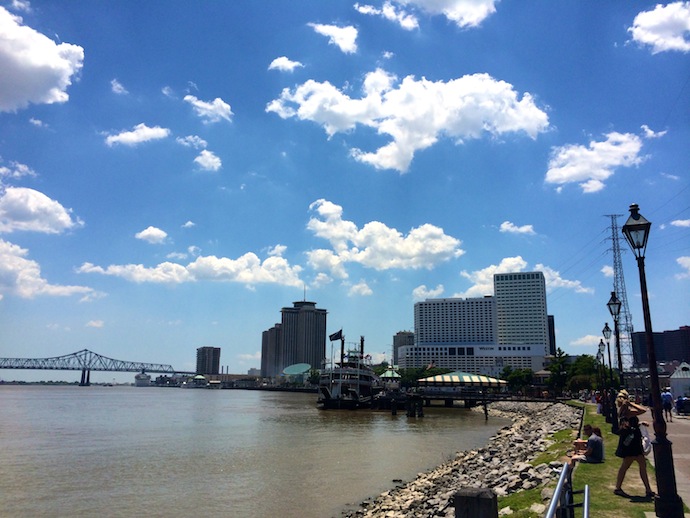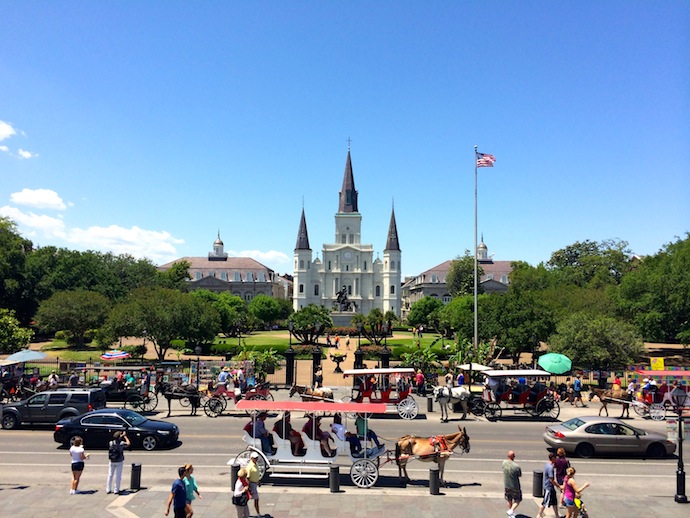 …which is a good thing, because we at beignets 3 times that day. Three. Oh the heavenly beignets at Cafe' Du Monde: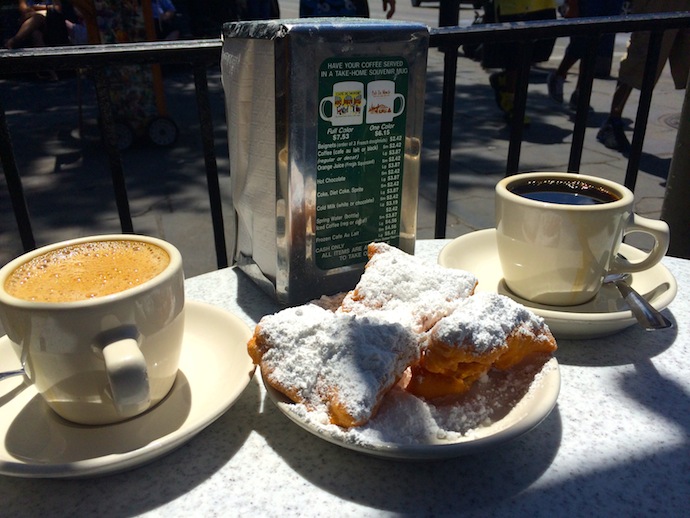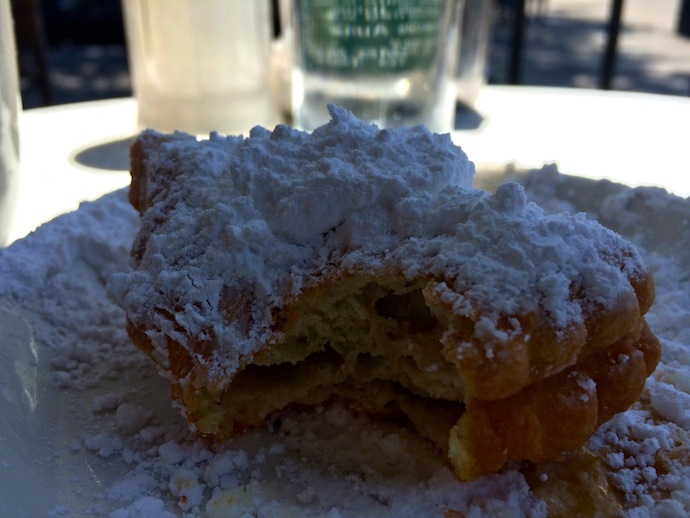 Jackson Square was a fun stop: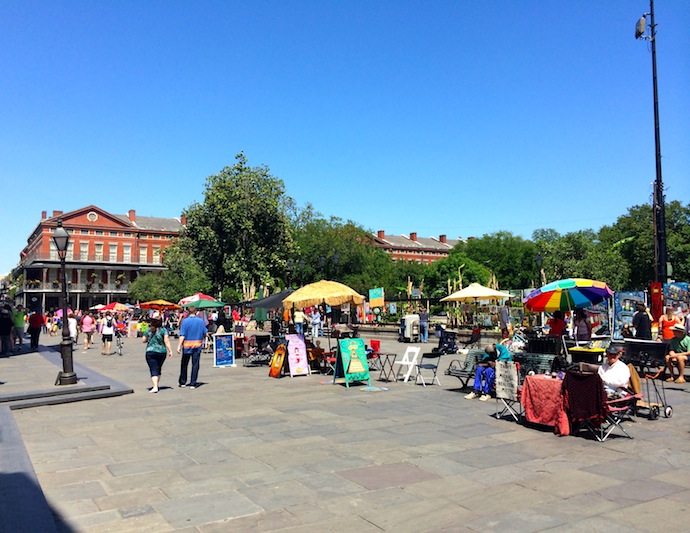 …for a balcony glass of vino and a perfect people watching spot at Tableau: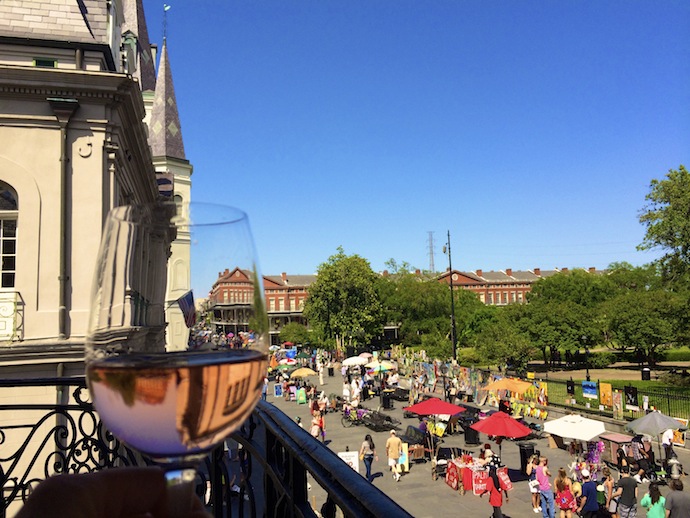 ..and of course, a most random street "band" for entertainment:
Next up was R Bar where we met hometown chef Newton Blanchard, stirring up an enormous pot of gumbo: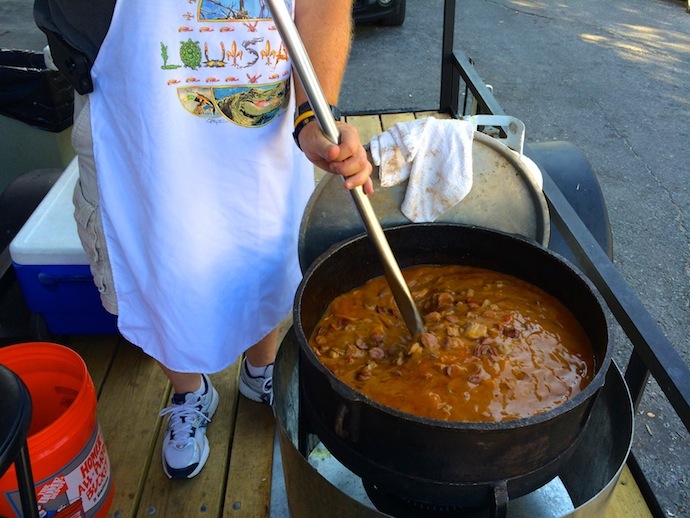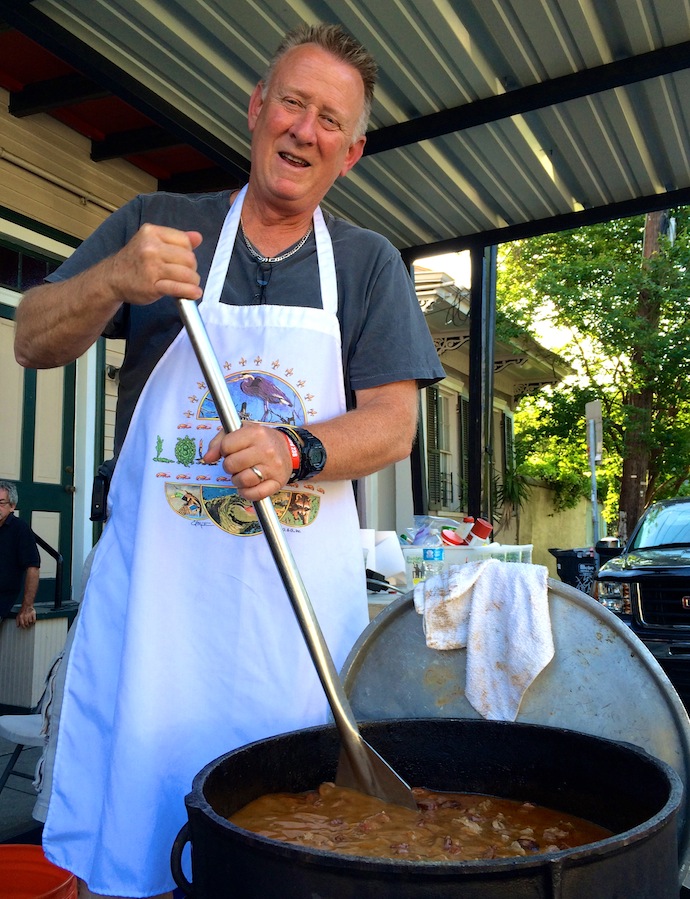 This guy pulls to the side of the street, every Saturday, preps this giant serving of New Orleans best that's ready for the taking "around 6pm" and people flock. No charge, just a donation. We chatted with Newton and sat around outside for a good 2+ hours and stuffed our faces. I mean stuffed:
My sweet, sweet, boyfriend, who's straight from French-Cajun Country himself- was in heaven: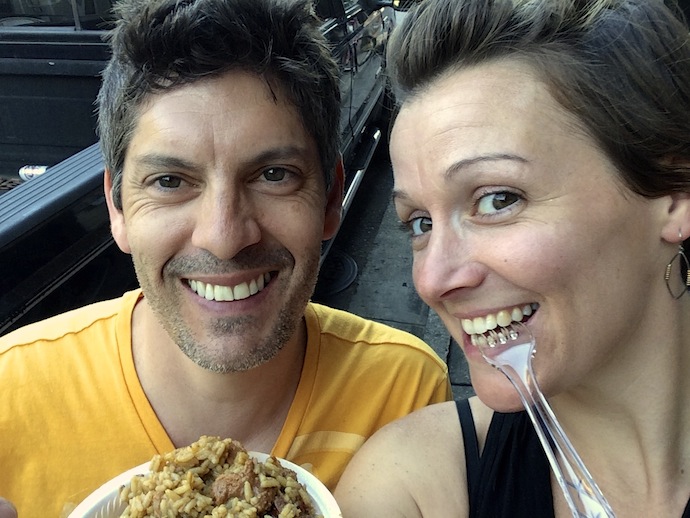 (Yikes…I think this is the official first photo of us I've posted on BLR. Actually, I think this is the first photo I have ever posted of  my love life here and It's been nearly 6 years. Clearly I've held out for someone who was well worth the wait:)
The food was super hot (temperature & spice) I could barely take little bites, but I had to dig in immediately after Newton served us: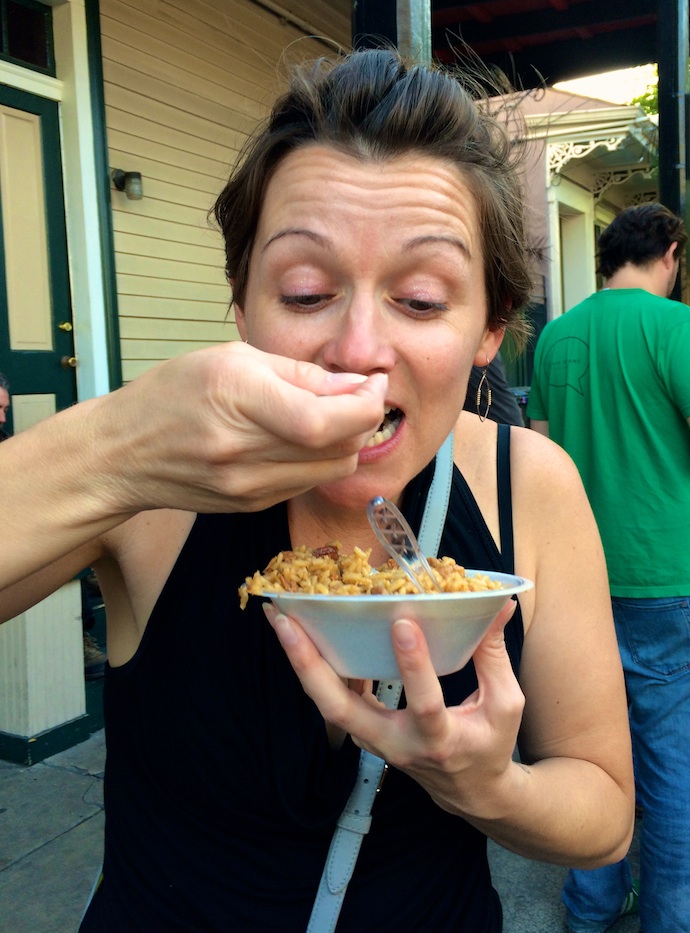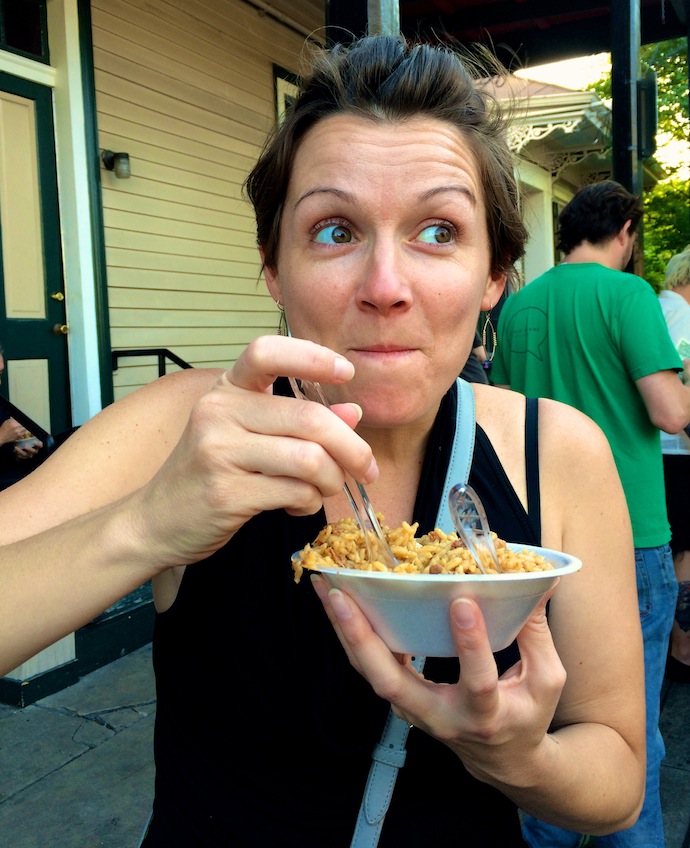 I will say it here first. I have eaten and posted here about a lot of food over these years, but holy moses was this roadside, stirred from something that looked like a shovel and served in a styrofoam bowl with a plastic fork some of the best ever. (Good thing I'm living with a Cajun. I'm sold!)
*Side note the striped can in the background above is my total summer favorite. It's Radler actually, by Stiegel. Beer + grapefruit extra cold = heavenly delicious and refreshing. It's hard to come by, so if you can get your hands on a can- do. Then bring me one, please.
After the feast and time with the locals, I played with sidewalk chalk at the Frenchmen Street Market: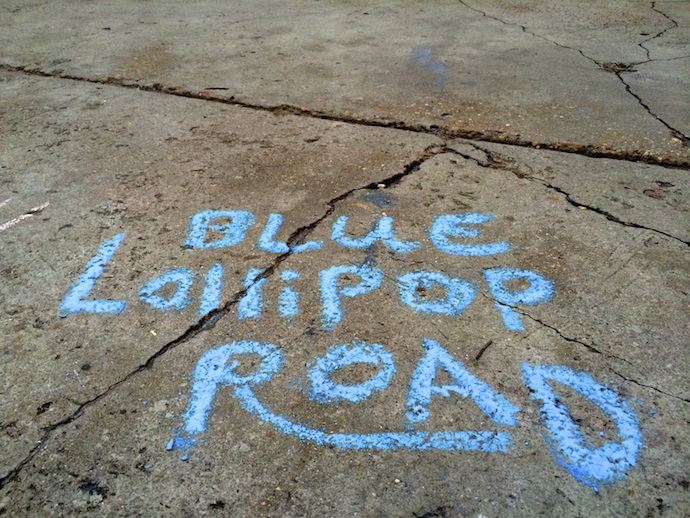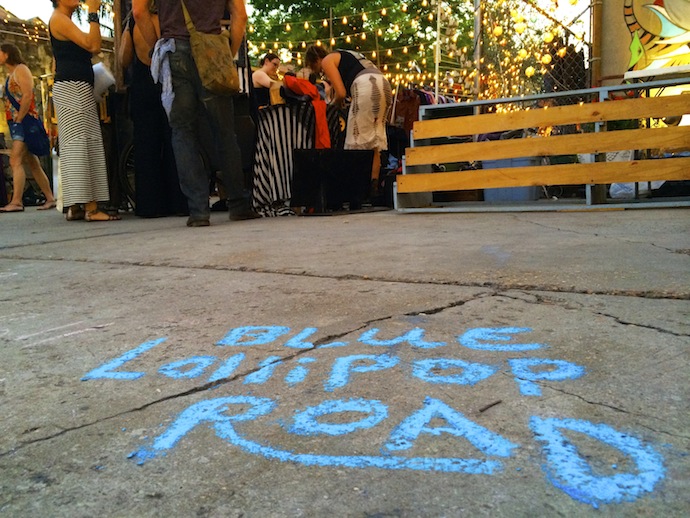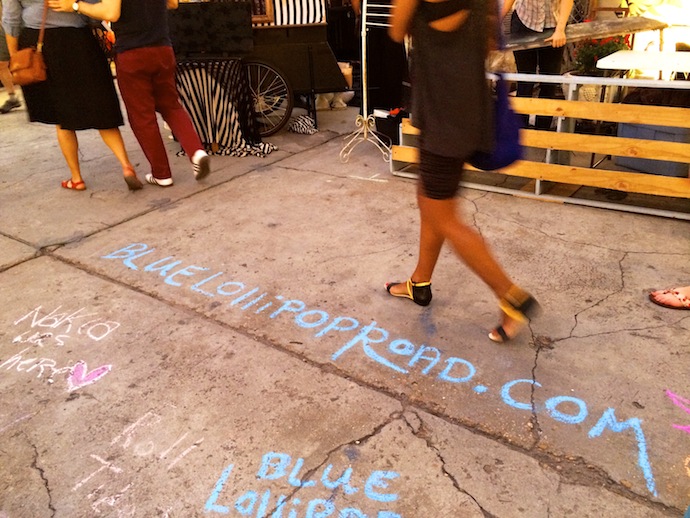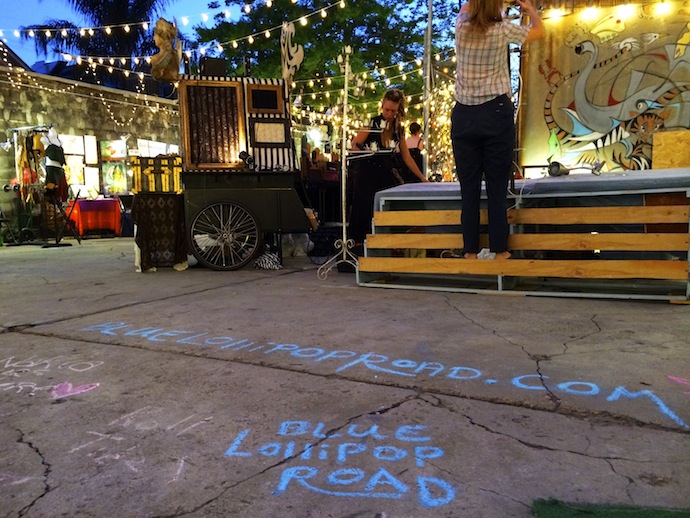 …and laid on the ground because it seemed like a good idea at the time and I was already filthy from walking around all day, anyway. I'm not scared of a little New Orleans, funk: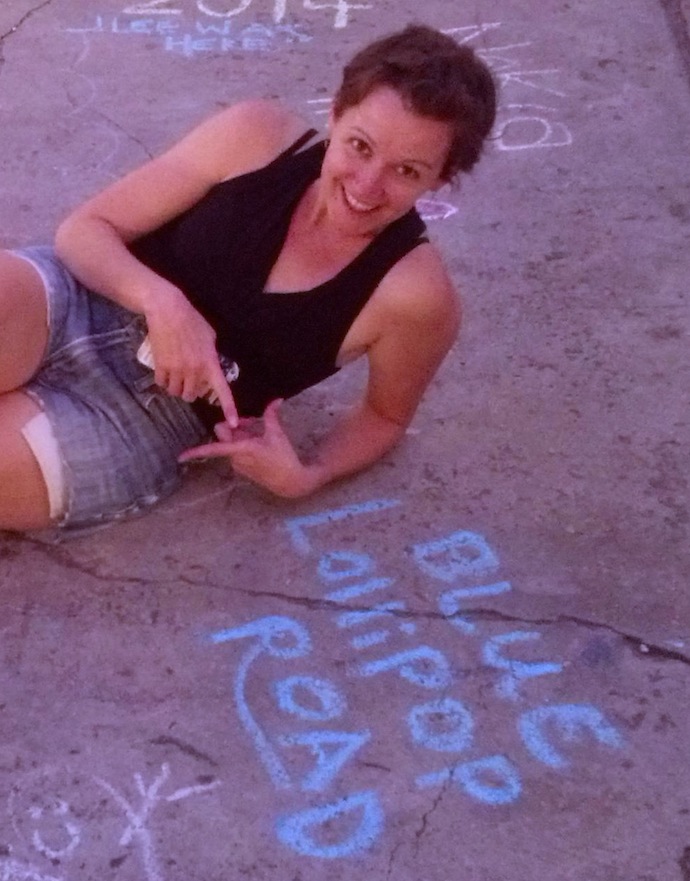 Love me some life on the Blue Lollipop Road!
One last stop for our 3rd round of beignets after-dark and our day was complete: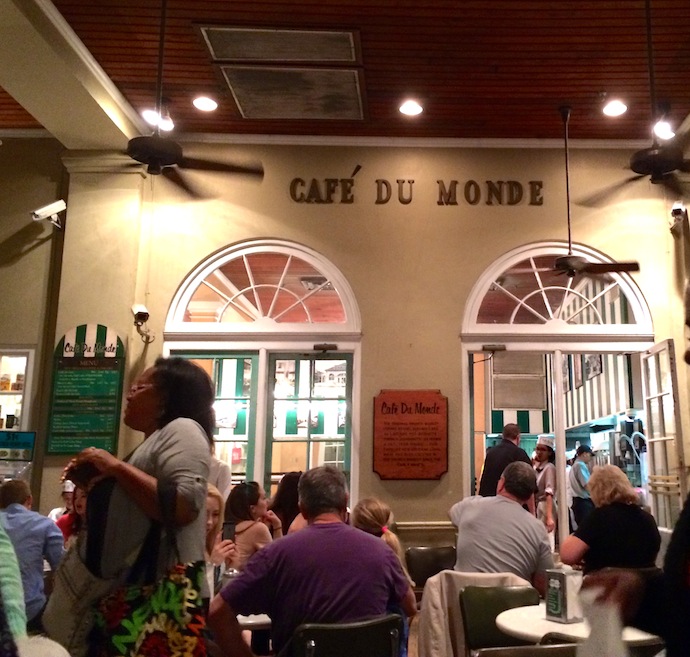 We made a good samaritan practice while noshing round 3, and tracked down a guy who had left his wallet at our table. He came back, the group next to us cheered, and missing wallet man from Tennessee gave us hugs. All love at the end of a day in The Big Easy with a full belly, a face full of powdered sugar, and the best travel partner in crime by my side.
I'm already ready to go again.
Where are you traveling to?
#NOLA #JazzFest #LifeOnTheBlueLollipopRoad