who are you? (part 3)
…continued…
I arrived to table #18 full of welcoming strangers and attentive staff immediately at our service pouring bubbly for everyone. (You know how much I love bubbly, so I was in heaven.)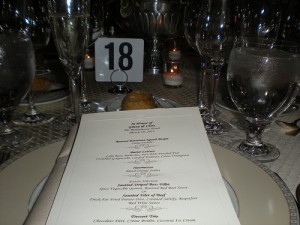 Our dinner feast started with soup; Roasted butternut squash bisque with cre'me fraiche: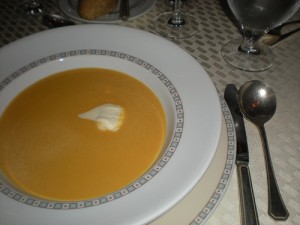 Then salad. Butter lettuce; lolla rosa, radicchio, port wine poached pear, crumbled gorgonzola, candied walnuts, citrus vinaigrette: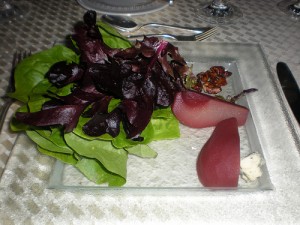 For palate cleansing; Blood orange sorbet: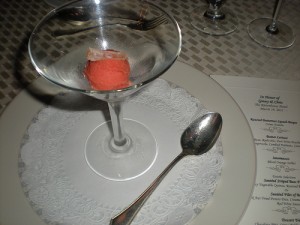 Between servings, beautiful bride Ginny perused the crowd and greeted the guests: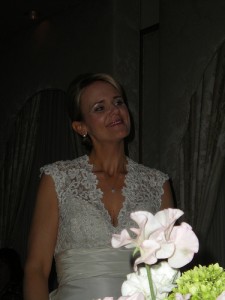 I will say here again, that she looked like the perfect bride. Of course her hair, jewelry, dress and all were gorgeous, but I really think it was the genuinely sweet and happy way Ginny had about her that made her look so perfect on her most important day. She was the vision of what all little girls dream about.
While Ginny made her way through the crowd, there was lots of dancing going on: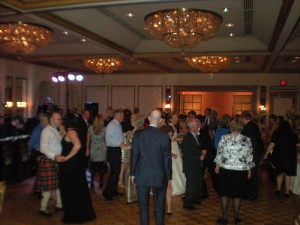 …and of course more eating: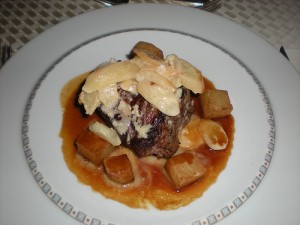 I chose the entree of sauteed filet of beef; Duck fat fried potato dice, creamed salsify, roquefort red wine sauce. I nearly licked the plate. I still wonder how the Rittenhouse could possibly execute 200-plus plates of entrees, all piping hot at the same time. It was as good as if I were dining at a small exclusive restaurant with the chef cooking 10 feet away.
Just as I thought it couldn't get any better, dessert arrived and cake. (I mean seriously, I was like in food coma, euphoria at this point it was all so incredible.) Dessert trio; Chocolate pate', cre'me brule'e, coconut ice cream: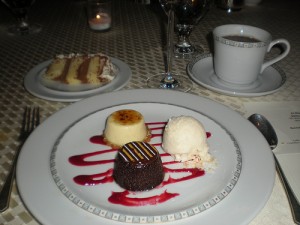 Those sweet treats stood no chance with me as I gobbled up everything. Thankfully we all burned off some calories by boogie-oogie-oogie-in to the fabulous band. I just love a wedding where the dance floor stays packed. The band at this one played from the moment we entered the room, through dinner and even extended their playing time beyond what was originally scheduled. Talk about perfectly executed! Eat, speech, dance, eat, chat, dance, eat, drink, speech, toast, dance, chat some more, dance some more, and eat some more.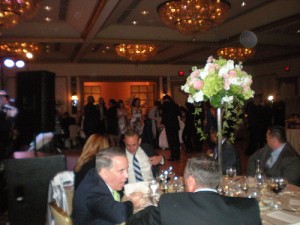 As I thought the night was wrapping up, and that we could not have had any more fun, or eaten anything else, the groom announced the party was moving into another area down the hall. We had to laugh when he noted that there would be a Philly cheesesteak bar waiting for us: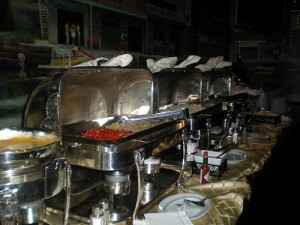 We had barely finished dessert! Then again, who am I to stop eating when I was in Philadelphia and there was a dish of liquid cheese waiting to be drizzled over meats and veggies? I think I counted 3 mini cheesesteak I consumed in the 2 hours we were at the after party. We all had plenty of cocktails, stuffed ourselves silly and I'm sure looked like long lost friends after partaking in 12-plus hours of wedding festivities together. My friend Jocelyn (who was the reason I was at the wedding- a friend of bride Ginny for years) joked that I was like the roaming gnome from those travel commercials. The one that pops up in random places like photos of families on vacation. Maybe it was because by the end of the night I exclaimed; "Ginny! We have got to get a photo of you and I for Blue Lollipop Road!"…so we snapped this funny one: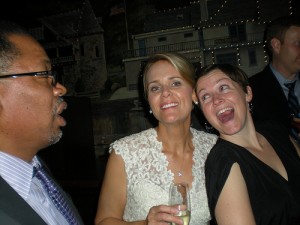 As the full day of celebration was coming to a close and the Rittenhouse staff was cleaning up the cheesesteak bar, our table looked like a war zone: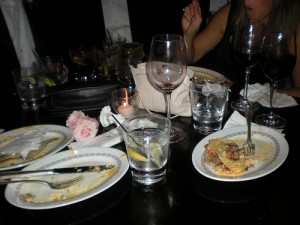 I don't know if groom Chris will remember this until he reads it here, but see that plate in the right corner? Those were Jocelyn's leftovers that Chris snuck a few bites from as we were all gathered around the table starting to say our goodbye's. I can't paint the scene any better than to say what he asked me, was like when the record stops and the whole party's eyes are on 1 person. (Remember, I had still not met this man but had been "crashing" his wedding all day and night.) Chris picked up the fork, leaned over the plate, took a bite, looked up at me and said: "Who are you?"
And scene.
Laughter erupted and there you have the perfect punchline that actually happened during the last moments of the wedding I crashed. It was a riot. That scene will no doubt go down in Blue Lollipop Road history.
Ginny and Chris~
As a perfect stranger coming in to your world, I appreciate your openness and generosity. Throughout the day it was easy to see why so many people came from far and wide to celebrate with you. Your love for each other was a treat to watch and something remarkable. I have no doubt that you will grow even happier together in the coming years.
Here's to new beginnings, and new unexpected friends. Thank you so very much for inviting me to share your special day!.