fill your trunk with pedros junk!
It's South of the Border fun! If you have ever driven I95 you know it's impossible to pass this place without stopping. Pedro welcomes you. How could you not stop at "America's favorite highway oasis"?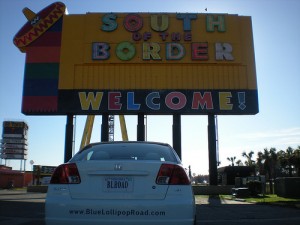 During my stop, I discovered once again that:
1.) I am the worlds worst videographer.
2.) I am the epitome of classy; I managed to use the words "crotch" and "pee" within 2 minutes of video. (Mom is so proud.)
3.) It takes very little to entertain me.
During my visit, I learned that Pedro could work on his bathrooms a bit: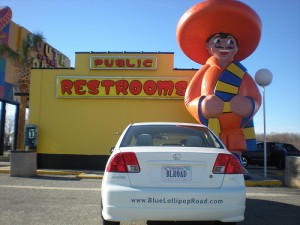 …and poor Pedros Ice Cream Fiesta looked more like a no-show Pedro party than a well- attended shindig: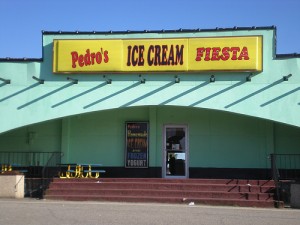 A few of the best parts of my South of the Border stop this go around:
1.) Posting real time photos on Twitter and Facebook and hearing responses and suggestions as to what to buy. (Man, people love this place!)
2.) Adding another crazy spot to the BLR-Mobile passport. In less than 6 months, my auto bff and I have driven through half of the country of Canada, all around Alaska, among the grapevines in Napa, 4 feet of snow in Vermont, South of the Border, just to name a few and there are more spots coming. Did I mention not one brake job, break down, or issue? Honda, I love you. If it weren't for you my life would not be nearly as fun. That is no lie.
3.) Finding out once again, that not much beats a road trip. People do really love cheesy roadside entertainment and the hope of meeting an interesting character.
I'm glad you have now met Pedro in case you have never been to S.O.B before. (Hee hee…S.O.B.) I told you I was going to start posting regular BLR "People." I never promised whether they'd be human or not 🙂
Off to search for more characters and the world largest jar of Nutella…