My annual July adventure up north for green space fresh-air & BLR Play It Forward Event time ended up being way more than I bargained for/planned on/expected/hoped/dreamed of/wished. Like way more. Some good, some bad, and some really ugly.
As I sit in my office back at home base, surrounded by piles of things to take care of (that's literal and figurative), I look at this photo from a couple weeks ago when I was peacefully sipping coffee at a boat house and think- ahhh…wouldn't it be nice if life was that calm & easy. (Then I think maybe not so much because we'd never learn how to handle the bumps and bruises that come along.)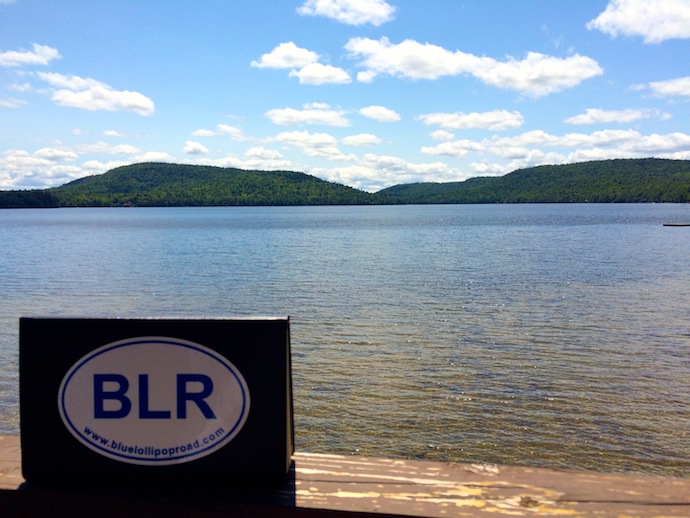 My brother sent this video to me via text the other day when I was on a long drive and just feeling awful. I laughed so hard in my stomach hurt. This is absolutely hilarious, with my favorite line being about the "3-ring sh*t-show" of life. Be warned; this is for adults, lots of eff-bombs/inappropriate language:
Seriously, how can you not laugh at something like this, especially when life is handing you so many lemons every kid on your street would be able to make enough gallons of lemonade to sell & finance their 4-year education?
It always seems by the time I end up sitting down and logging on to write here, I have too much I want to share about my experiences that I don't even know where to begin. For now I will say that I continue to be so incredibly thankful to all my family & friends for being such a big part in why life is beautiful. (And "brutiful" as my friend Laura says.) Also, Play It Forward 2015 was an amazing success and I am one happy camper about that. (More on our event here soon. Our generous volunteer photographer, Nicole is editing photos as I type.) Beyond those two things today, I will share some things I have learned and re-learned from this crazy summer of 2015 so far:
*Life is too short
*There's a lot of fear floating around this earth
*If you feel like you want to do something or say something, you should start doing it right now
*There are few things better than spending time with good old friends
*You will never forget that time when you were a grown adult that your Mom literally had to hold you up and hold your hand at a funeral- otherwise you would have never been able to do it. (I love you so much, Mom.)
*If you compartmentalize deep/heavy/important/significant stuff for too long, it will rear It's ugly head sooner than later
*We must wake up everyday even when we are drowning in that sea of lemonade that has come rushing toward us (see above making lemons out of lemonade), and be inspired to do better, be better, and live better- even when we feel like total crap
Feeling scared, sorry for yourself, or overly bummed about tough stuff or things that are happening that are not so awesome? Think about those people (we all know far too many) who no longer have a choice; The ones who if they did, would give anything and everything for a chance to just be free and feel healthy, to spend just a few more minutes doing something they're passionate about, to have just one more hug from the ones they love.
Now that's motivation. 
Go get it, ya'll. Put the courage belt on, clip yourself in tight for an incredible ride, and start driving. Live. Time's a wastin'
#StayInspired #Believe #LiveWhileYoureLiving