I've been holding out on you! (I can't tell you all my secrets, all the time:)
A few months ago, just before the weather started blazing into the start of summer, I had an unexpected conversation that has 100% changed not only the course of my work life, but I feel like potentially my whole life. (ONE 5 minute conversation!!!)
For real.
So I've been plugging away since that day, on this new work that truly fuels me, inspires me, uses my talents/experience, and pays me. I'd been fighting so very desperately for years to figure it out and it is here!
HALLELUJAH THANK YOU, JESUS! (And I don't even go to church.)
This means you will see big changes here to the Blue Lollipop Road you've known for nearly 7 years. I guess this 7 year cycle stuff is for real. I love it. I've partnered up with a branding company who I'll share about soon. They're working hard to completely overhaul my beloved BLR website into the 2.0 version; cleaner, clearer, and even more alive.
This is big time.
I was going to wait to share this news until closer to launch date, but because of a text conversation today with a friend that made me smile huge, here we are. (Also, I'm awful at staying quiet when I am over-the-moon excited, anyway. I can't believe I've made it this long!)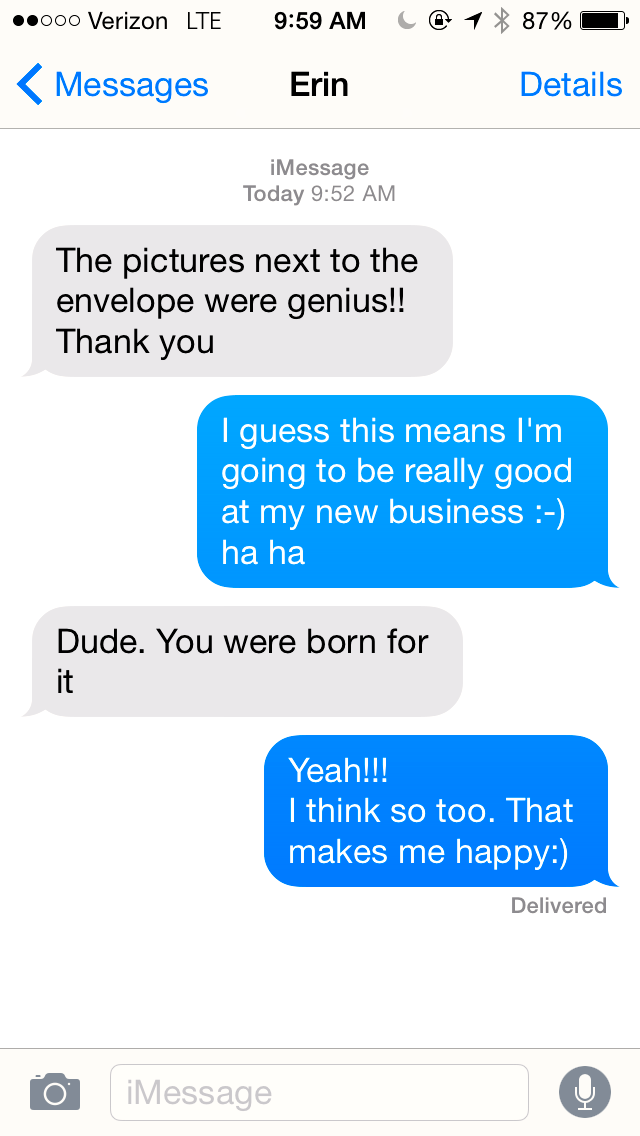 (My words are in the blue bubbles.)
If you're still fighting hard to figure out what you love/who you love/how to love/what to do/where to go/how to be…keep fighting, you will figure it out! When you get "there" all battled and bruised from the fight you've put up, you will be so good and so happy you'll be unstoppable. It will feel so much sweeter, I promise. Specific to my work/money life, I've been at the edge of feeling like a never going to figure it out nut job for years. No joke, it has been the most frustrating and often debilitating process of my life. I've lost friends, screwed up relationships, driven my family bonkers, bawled my eyes out, exhausted myself spinning in circles- you name it, but I've kept pushing because I've always believed, and boom! It happened. Timing/I was ready/A random chat with a stranger in a Starbucks- whatever the reason it is, my place has come and there ain't no stopping me now, baby!
LIFE IS TOO SHORT TO GIVE UP. Believe in yourself, know there's a place for you and you are not a freak if you don't have it all figured out- no matter what age you are. Carry on your fight, call me when you get to your place, and we will raise a glass together.
Go get 'em, tiger.
#FindYourFreedom #WorkThatMatters #Believe