July 8, 2016
In
BLR Memorial Travel Scholarship Fund, BLR Play It Forward 2016, Blue Lollipop Road Memorial Scholarship, Do good, Links, Live the life you want to live, News & Updates, News articles/Links, play, Press, Strong Mojo, Vermont
Here we go year #5!
Doing good feels good with all the bad and sad news in the world. Tonight we will kick off our 5th Annual event starting at 7pm at Ramunto's with our Welcome Back Party: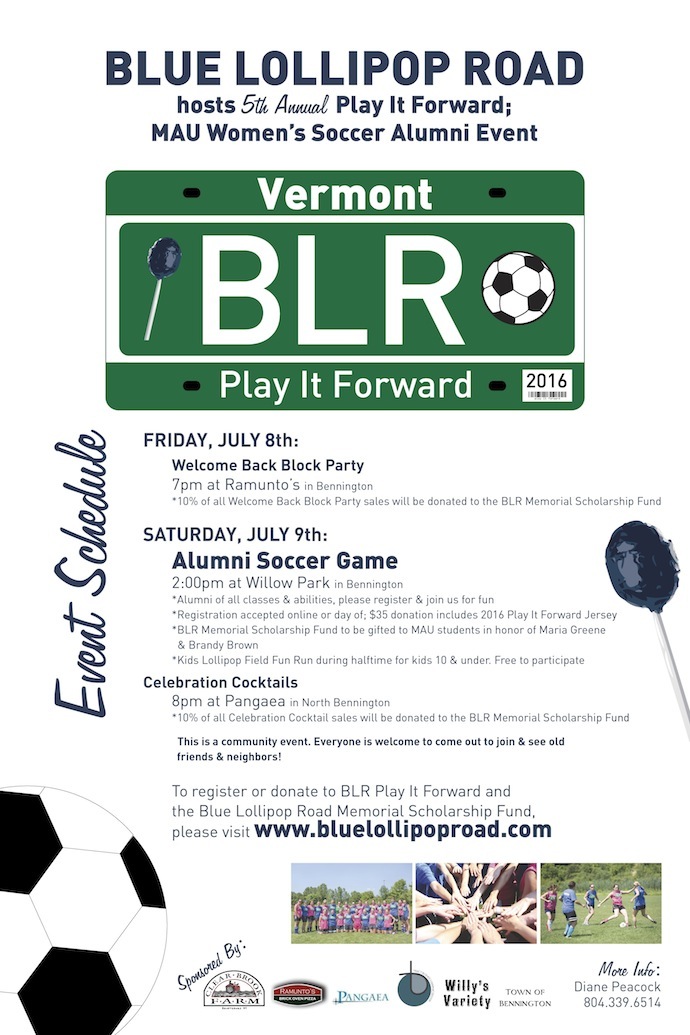 Ramunto's will donate 10% of all sales from anyone joining us, back to the Blue Lollipop Road Memorial Travel Scholarship Fund! Come one and all for craft beer, wine, great pizza, lots of specials and fun! 7pm until ?
Tomorrow we will award scholarship funds, play some soccer, the kiddos will do a fun run at halftime of the game, and we will have Celebration Cocktails to wrap the weekend at Pangaea Lounge. Pangaea will also donate 10% of all sales from anyone who joins to the Blue Lollipop Road Memorial Scholarship Fund. They've whipped up a special menu of BLR inspired craft cocktails, too. Yum…
ALL ARE WELCOME FOR EVERYTHING! Bring yourself, your lover, your friends, your dog, your kiddo's, your former coach, neighbor, grandparents, and whoever else you can think of. THIS IS A COMMUNITY EVENT. (Rain or shine!)
Three cheers for the Bennington Banner and writer Adam Samrov who put out this article about our event, today. Thank you, Adam!
Want to get involved, donate/sponsor, or have a question? Great! See event info. here, or call/email Diane:
804.339.6514
Diane(@)BlueLollipopRoad.com
See you this weekend!
#RememberCelebrateLive #StrongMojo #PlayForwardGiveBack