…but I make a damn good grapefruit vodka martini inside!
It's 4:30pm Friday January 22nd and we're sitting in Charlotte, NC at home during this "epic" (thanks, CNN) storm Jonas. First snow, and more coming. Cars are already completely encased in their bubbles of frozen water which means you have to chisel around your doors to get them open unless you want to wait until everything melts. Cars look like this one in Buffalo, NY parked near Lake Erie recently: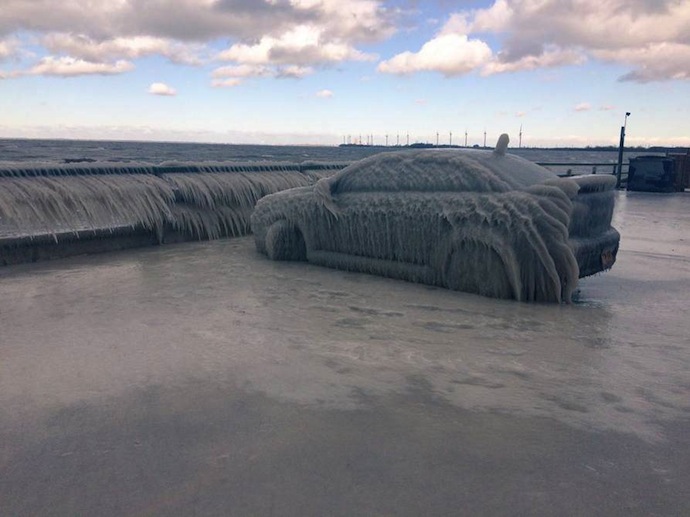 Ok, so maybe it isn't quite that bad, but it is definitely hard to break into your own car during storms like this in the south.
This was the view of a freeway near my apartment this morning. It's typically packed, often bumper to bumper Monday – Friday: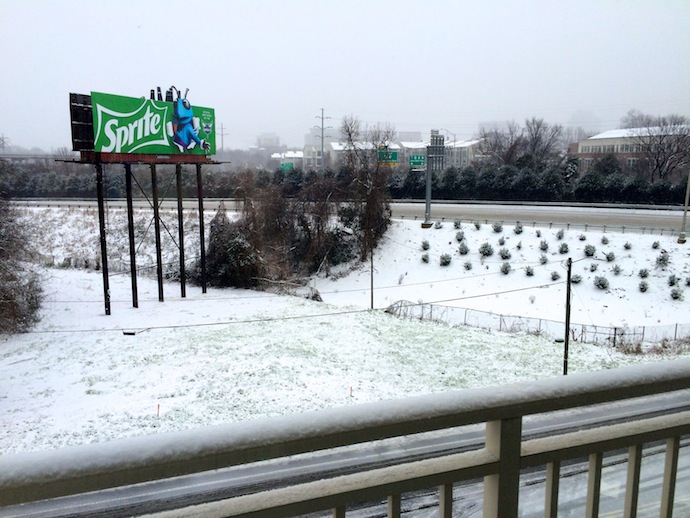 Nobody.
And this was my view of Uptown (what people around here call downtown):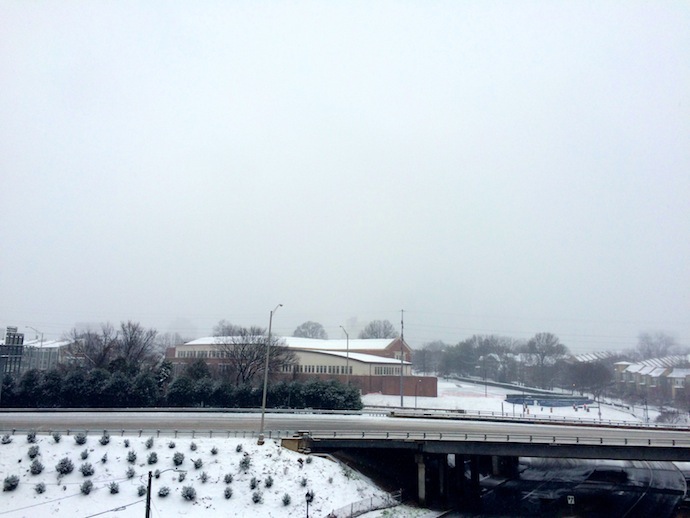 You can't even see the buildings. Whiteout. fog out. Don't go out. The city is completely shut down.
SNOW DAY!
So what to do?
Yes, we were responsible; Thanks to the interwebs, after sleeping in a little, we "hit the (work) books" to wrap the week, and just now got the bright idea for tropical delicious cocktails. (Did I mention our friends were supposed to fly to Mexico for their honeymoon today and are instead, stuck in the queen City until stormageddon stops? Boo. We made our above drinks in honor of them. When life give you lemons…make cocktails!)
Whether it is January or July, this is my favorite martini to make at home:
*Ice in a shaker with at least 1 generous sized squeezed wedge of both lemon and lime
*Vodka of your choice, and amount of your choice. (Hey, I'm not your mother. Go for the heavy hand if you want. No one is watching:)
*3/4 grapefruit juice. (Preferably fresh grapefruit juice.)
*1/4 heavy splash of cranberry pomegranate juice and light splash of orange juice
*Shake it up and serve, baby.
Stay warm out there! And if you need any help with this cocktail recipe, (or anything else fun, drop me a line here.)
#CocktailsKeepYouWarm #LessStuffMoreFunHappyLife #SnowDay