Yesterday we had the most hits ever. (As in visitors here.) That deserves a big CHEEEEEERS! So? Some bubbly: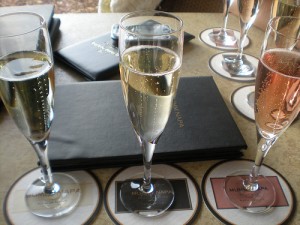 Those delightful glasses were the ones I sipped at Mumm Napa during a day off in the Valley this fall. I love some good bubbles. Especially bubbles at Mumm.
Baby steps have turned into big steps. We are hitting the tipping point with Blue Lollipop Road. Every new reader, shout out, comment and collaboration we get to work on makes me screech with delight. Thanks everyone!
Keep reading and spread the word. More to come and it's going to get even better!
Cheers to trusting your gut and following what you love.
What are you all following out there?